[caption id="attachment_8816" align="alignnone" width="356"]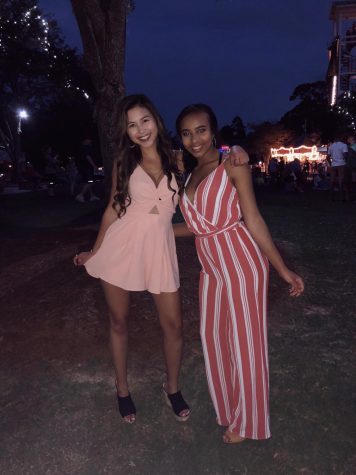 Me and my friend at the Beach at Sandestin[/caption]
[caption id="attachment_8818" align="alignnone" width="356"]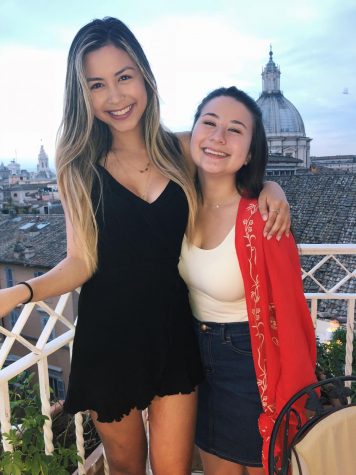 Me and my sister at the top of a building in Italy[/caption]
[caption id="attachment_8820" align="alignnone" width="380"]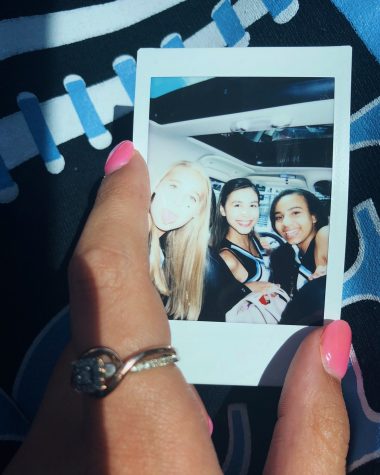 Me and my friends at cheer[/caption]
[caption id="attachment_8823" align="alignnone" width="356"]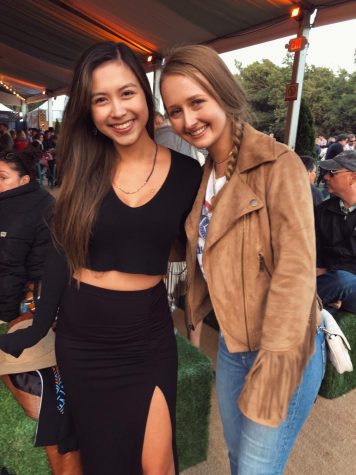 Me and my cousin at Outlanders Music Festival in San Francisco[/caption]
My name is Sydney Lee. I am a Senior at Christ Church Episcopal School. My favorite subject is English and I am a varsity cheerleader for Christ Church. I am 17 years old and have an older sister Courtney who goes to Georgetown college in Washington D.C. I hope to go to College of Charleston next year for my first year of college. The plan is to major in English and become a teacher, but for as now, I am passionate about creative writing, such as poems or creative short stories. Recently, I have found interest in opinionated stories, therefore I thought Journalism would be the perfect outlet to voice my opinions and share news to the students at the school.
On the days that I am not writing, I can probably be found volunteering at the Humane Society, with my friends downtown, or somewhere at a local coffee shop reading while listening to loud music with my earbuds in.
My favorite summer memory would have to be eating dinner with my best friends while watching the vibrant sunset disappear behind the trees and docs at Sandestin. Sandestin is my favorite beach that I go to every year. It gives me something to look forward to and is my home away from home.
My craziest summer vacation was when me, my sister, Mom, Dad, and cousin went throughout Italy to Rome, Florence, and Venice. My favorite was Venice and we ever got some pictures of me and my sister at the top of a historic building during sunset at a cute cafe overlooking a once in a life time view of the beautiful city.
Besides writing, I also love and find a break from life through meaningful music. This past summer, I went the Outlanders with my sister and my cousin. The Outlanders is a music festival located at San Fransisco. Some of my favorite, famous artists that played was The Weekend, Lauv, and Florence and the Machine.
Lastly, another thing most people most likely do not know about me is that I love to journal every night before bed for about ten minutes. It is the perfect end to a crazy day as a senior at Christ Church.
Sydney Lee, Staff Writer
Apr 15, 2019

Mental Health Importance

(Story)

Mar 29, 2019

Terrifying Tinder

(Story)

Mar 21, 2019
Mar 21, 2019
Mar 12, 2019
Jan 29, 2019

Why do we love who we love?

(Story)

Jan 25, 2019
Jan 17, 2019

Danced the night away

(Story)

Jan 15, 2019

New Year, New Resolutions

(Story)

Jan 04, 2019

The movie "Searching" by Aneesh, it could happen to you

(Story)

Dec 03, 2018

Affordable Christmas Gifts to Save the Holiday

(Story)

Dec 03, 2018

It is fair to say that this year's Club Fair is the best one yet!

(Story/Media)

Nov 06, 2018

Bill Cosby's life that ended with prison

(Story)

Nov 06, 2018

The anticipated Emmys filled with many surprises

(Story)

Nov 06, 2018
May 01, 2017

Eggciting Easter Traditions and Unforgettable Memories

(Story)

Apr 25, 2017

The Best Summer Clothes for those Long Summer Nights and Various Tan Lines

(Story)

Apr 03, 2017

Emily and Her Journey with Painting

(Story)

Mar 30, 2017

Live From Room 106 – Kailee Morgan

(Story)

Mar 14, 2017
Mar 02, 2017

Behind the Curtains

(Story/Media)

Feb 21, 2017

Sophomore Projects

(Story)

Jan 30, 2017

New Year, New Fashion

(Story/Media)

Dec 12, 2016

Live from Room 106

(Story)

Dec 05, 2016
Dec 01, 2016

Epic Proportions Student Review

(Story/Media)

Sep 19, 2016

I Got a Pocket Full of Sunshine

(Media)

Mar 30, 2016

Sherri Hill Slays Fashion Week

(Story)

Feb 18, 2016

New Years Fashion and Tricks

(Story)

Nov 23, 2015

Falling for Flannels

(Story)

Sep 21, 2015

Miley Hosts the VMAs

(Story)