First Day Fashion
Walking through the Upper School at Christ Church on any day is like attending Fashion Week in New York City, and the first day of school was no exception.  Students began the new school year on Monday, August 24th, and everyone was dressed to impress.
For the 2015-2016 school year, there have been several changes to the Upper School dress code. These changes include a three finger strap width requirement and the banning of leggings.  Despite these restrictions, students at Christ Church still found ways to stay stylish and express themselves on the first day back to school.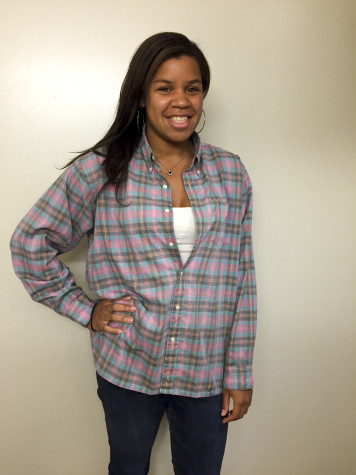 On the first day of school, sophomore Lawren sported a comfy-casual look which included a baggy plaid shirt and skinny jeans.  Lawren said, "I purposely left my shirt unbuttoned so you could see my cami, which adds a different texture to my look."  She paired her look with gray hoop earrings, a heart necklace, and white Keds.  Lawren really likes Keds "because they're easy to pair with just about anything."
Although Lawren loved her first day outfit, the new dress code has still had an impact on her clothing choices.  Lawren stated, "I hate how we can't wear leggings with big shirts anymore.  I probably would be wearing leggings with this outfit if I could."  Lawren also believes athletes should be able to wear sweatpants on game day and hopes this policy will be changed in the future.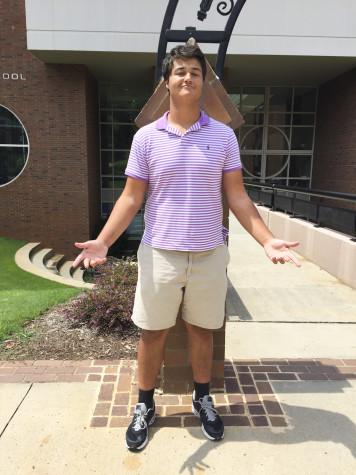 Junior Evan describes his fashion style as that of "a typical Christ Church guy," and that's exactly how he dressed on the first day back to school.  He rocked a purple and white striped Polo collared shirt and khaki shorts.   Evan said, "I normally wear Sperries, but I couldn't find them this morning," so he completed his look with black Nike tennis shoes instead.
Junior Victoria's main goal for the first day of school was to be comfortable.  Victoria wore cuffed, straight-leg jeans, which she described as "very comfortable and not too tight."  She also sported a loose green top from Urban Outfitters that she layered over a flowered bralette, also from Urban Outfitters.  Victoria loves the recent bralette layering trend, and she explained her decision to wear one by saying, "it added a nice touch of color, yet it's still really comfortable."  Victoria completed her look with two simple silver necklaces that she wears everyday.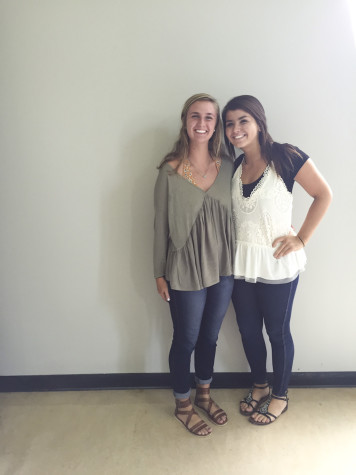 Lily, a junior, dressed in dark-wash skinny jeans and a white lace halter top layered over a plain. black, dress code shirt. Her halter top is from Urban Outfitters, her favorite place to shop. Lily used the new dress code restrictions as an opportunity to create new outfits.  "The straps of this white top are not three fingers in width, but I still wanted to wear it because it's 'summery' and cute.  I decided to add a black top underneath so that it's school appropriate," Lily explained.  She finished off her look with beaded Sam Edelman sandals.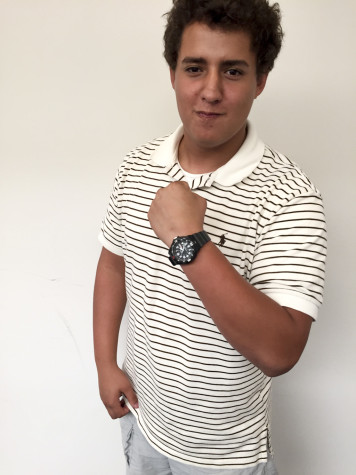 Senior Tudor showed off his new brown and white striped Polo collared shirt, which he bought a few weeks ago for the first day of school.  He paired his dress-code appropriate shirt with light Columbia shorts and Nike tennis shoes.  Tudor also wore Under Armour socks because he "like[s] cross-branding." He completed his outfit with his favorite accessory: a silver waterproof Cassio watch. According to Tudor, "having a waterproof watch is important because you don't want to get your watch wet when you go to wash you hands."  Tudor's style is not only fashionable but also practical.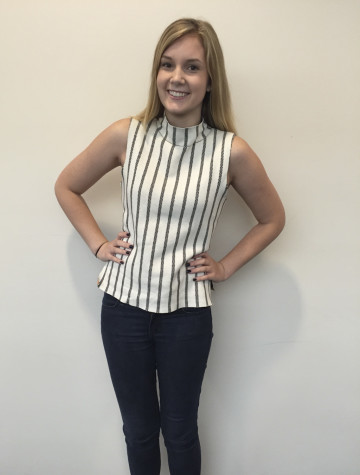 Emily, an always trendy senior, combined the summer and fall seasons on the first day of school by rocking Tori skinny jeans, Tori flip flops, and a turtleneck tank top from Anthropologie.  "I bought this top just a few weeks ago, so I was excited to wear it on the first day of school to showcase my style."  Emily kept her outfit simple; she wore no jewelry and painted her nails a dark navy to match her shirt.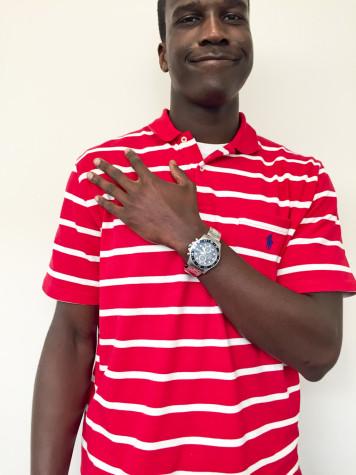 Senior Braxton sported a red and white striped Polo collared shirt that featured a front pocket, as well as navy Polo shorts. According to Braxton, "the frocket is important because it's the first day of school, and I needed a place to keep all of my pens." He also wore Sperries with black Nike socks and a new silver watch his mother bought him for his senior year.
Dani, a fashionista and sophomore at CCES, dressed in Rag&Bone skinny jeans and a striped chiffon tank top from Nordstrom, her favorite store.  She completed her outfit with gold Sam Edelman mules and two long necklaces:  a brown beaded tassel necklace and a gold dog tag necklace.  "I wore this outfit because it made me feel pretty, which is especially important on the first day back to school when you're just getting back into the swing of things," explained Dani.
The Upper School dress code limits the type of clothing students can wear, and at first glance, many students dress in similar styles. These students, however, express their individuality through small choices in fashion that affect their overall outfit. Most girls wear skinny jeans but convey their personality in their shoe and jewelry choices. All boys are required to wear collard shirts but are able to show their originality in color choices and brands. Overall, students in the Upper School at Christ Church stay fashionable, classy, and unique in their clothing choices.