"The Palm"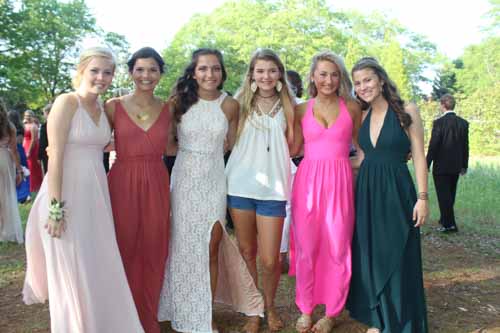 Prom was a great success this year for students and faculty alike at CCES. Students from primarily the 11-12th grade classes attended prom with many underclassmen guests accompanying them as  dates. This year's theme was deemed "The Palm" by current prom chairs; Lila Weston, Catherine Hollis, Sophie Catanzaro, and Murphy O'Brien. The girls worked extremely hard to create a beach vibe with real live palm trees and patio furniture. Brightly colored paper lanterns hung from the ceiling as well as tropical themed streamers. Sophomore Sophie Houser stated "it was beautiful and such a great first prom."
All preparations for this special night started far earlier than just the day before for many CCES students, particularly the girls. Girls scoured around all of Greenville and the internet searching for the perfect prom dress and, of course, the right shoes to match. In an attempt to follow the beach theme design, many girls visited Augusta Road's "Organic Tan" to achieve a perfect summer glow. Hair appointments as well as makeup appointments were made months in advance to ensure that every girl would feel beautiful for their prom night. All couples attending prom also made sure to remember to trade boutonnieres or corsages before entering the ballroom.
The student body cleaned up very nice and must be applauded for their amazing effort. Boys were attentive to follow the color scheme of their dates and many took their own fashion risks. Junior Reece Wright matched his gold vest with some gold and white Jordan's and quite a few white blazers were seen in a sea of black ones on many dashing seniors. It was a prom to be remembered for the students' Vogue-esque attire and the simply beautiful atmosphere.  
As the night went on, the time to announce the 2017 prom king and queen arrived. For this year's prom, the long term couple Josh Fisher and Davis Vergnolle were crowned. Davis was "shocked [she] got picked to be queen and thought it was the best way to end senior year." For senior Liza Kehl, "The Palm" was extra special because her long distance boyfriend, Cody, came all the way from Canada to escort her. Faculty members such as Mr. Byrnes, Mr. Bousman, Mrs. Lysick, Mr. Forbis, and Mrs. Misenhiemer served as prom chaperones and were able to relive some prom flashbacks of their own. Overall, prom was a marvelous time for the entire Christ Church community.