Food for Thought
Breakwater Restaurant & Bar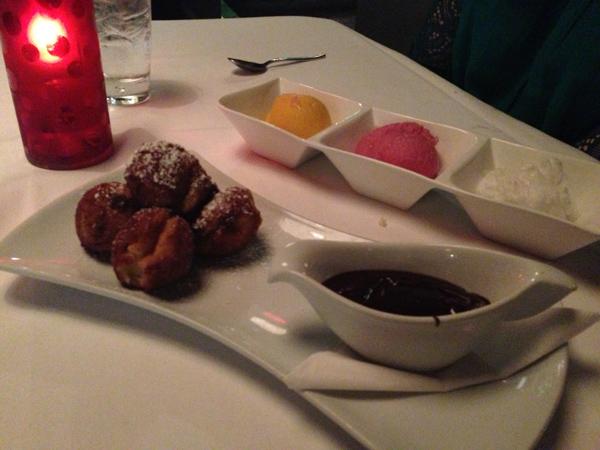 Breakwater Restaurant & Bar is just one of the many restaurants that is participating in South Carolina's Restaurant Week, which is running from January 9th to the 19th. Restaurant Week allows diners to enjoy upscale cuisines for lower values. Each restaurant creates a separate menu with several options for all of three courses. As a result, patrons are able to enjoy a full three course meal for a fraction of the usual price.
Breakwater was certainly reaping the benefits from this special promotion. The restaurant was packed full of customers looking to have a nice weekend night out, and not one of them was younger than a college-aged adult, as it is definitely not recommended for kids or younger teens. All of the closely placed tables were occupied, which made for loud chatter throughout the space.
The abridged menu for Restaurant Week offered three appetizers, four entrees, and three dessert options. The butternut squash bisque and the artesian salad, which is similar to a house salad, came out first. The salad was the favorite by far, largely due to the fabulous dressing that perfected the rest of the toppings. The bisque, however, did not do the winter vegetable justice because the butternut squash flavor was outweighed by the other ingredients.
The main courses, though, did not disappoint. The freshly caught salmon was served on top of sweet potato puree and haricot verts, otherwise known as green beans. The sweet glaze on the salmon paired very well with the sweet potatoes and savory green beans. Thinly sliced and drizzled with a palatable pinot sauce, the duck breast was also a hit. Its sides included mushroom risotto and diced butternut squash.
The delectable desserts were a great way to finish off the meal. The beignets melted in the mouth and were served with a side of warm chocolate sauce. The cool trio of sorbets provided the perfect complement to the warm, flaky beignets. There was a scoop of each mango, raspberry lemonade, and coconut sorbet.
Be prepared to take your time and enjoy your dining experience at Breakwater. The waiter stopped by only sporadically and the food preparation took a while. There was a lengthy pause between each course, which felt a little too long at times. Despite these few drawbacks, Breakwater is a popular downtown option for a more upscale cuisine.