Food for Thought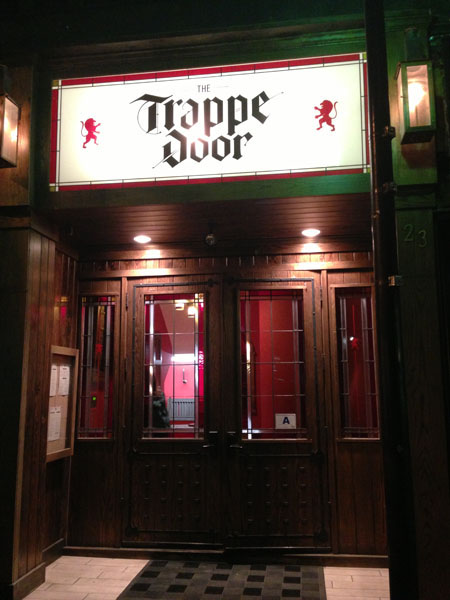 In what used to be the basement of Barley's, The Trappe Door has emerged as a unique Greenville eatery. A grand entryway leads to the underground dining area at the first Belgian restaurant in Downtown Greenville, which is located on West Washington Street. The enclosed stairway opens to a dimly lit bar and restaurant area, which serves as a great location for a brief escape.
The Trappe Door offers an authentic Belgian menu with a large variety of options. The most popular items, however, are the Moules Frites, better known as mussels and fries. There are six kinds of mussel pots, all unique in flavor, but nonetheless delicious. On this particular visit, the Spanish mussels and the White and Blue mussels were ordered. Both of these pots are highly recommended, and they include homemade fries and a choice of three flavored sauces. This side is quite tasty and is the perfect complement to the mussels. In addition, a slice of French bread accompanied the dish.
Before the mussels arrived, The Warm Brussels Sprout Salad almost stole the show as an appetizer. If it were served chilled, like a normal salad would be, it may not have been as memorable. However, the warmth of the brussels sprouts combined with the bacon and dried cherries provides a unique combination of flavors.
The pairing of deep red decor with dark wooden furniture mirrors that of a true Belgian bar. Red-colored glass bottles are placed on the table and remain there throughout the meal, so there is no need to ask the waiter or waitress for a water refill.
The dining experience at The Trappe Door not only offers fine, authentic Belgian food, but it also presents the feeling of a getaway due to its cozy, secluded location.