Food for Thought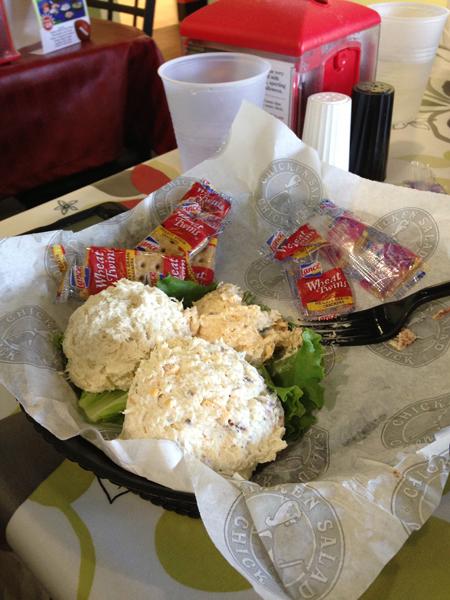 The new hot spot for lunch in town is Chicken Salad Chick, located in the Augusta Commons shopping center. Although it stays open late enough for some to enjoy an early dinner, Chicken Salad Chick is definitely the place to go for lunch Monday through Saturday.
Fifteen different chicken salads are offered, all of which have fun, southern names. Classic Carol, Fancy Nancy, and Kickin' Kay Lynne are just a few examples of the classic, fruity, and spicy chicken salads served at Chicken Salad Chick. Whether dressed up with bits of apples, pecans, and grapes, or a combination of spicy buffalo, jalapeño, ranch, bacon, and cheddar cheese, the variety is sure to satisfy any chicken salad lover's taste buds.
Each kind can be served as a sandwich on one of the many choices of bread. In addition, every meal comes with a side of one of the famous side salads, which include a popular broccoli salad or a fresh fruit cup. However, some might be concerned that it is too hard to choose from the abundance of chicken salads. That's why one of the most popular options is the Chick Trio. This meal is a mix and match of any chicken salads or sides, which makes it easy to customize a meal.
The only problem is that this new restaurant is so popular that during lunch hours, it is always packed. It is very hard to find a place to sit down and eat because the venue is small and seating is limited. Other than that, though, Chicken Salad Chick is a quick, fun, and easy place to grab lunch with the girls or get a bite to eat during a break from work.