2019 March Madness Predictions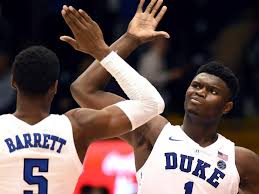 For basketball statistic fanatics around the world, Selection Sunday is an important holiday. With 67 high-stakes games to be played during March Madness, Selection Sunday is a moment of truth to see which matchups diehard fans will analyze. And, with an abundance of incredible first round games, as well as some very interesting potential second round matchups, this year's bracket did not disappoint (unless you're an NC State fan, in which case, sorry)
With the CCES News Bracket Challenge looming, you may need help. Whether you know basketball or not, March is madness. You'll have ESPN analysts telling you why Buffalo and Houston are legit, the Duke fan in your 4th period Science class telling you why Zion will lead Duke to a title, and the always reliable clueless parent filling in his or her bracket based solely on which mascot they like the best. But as your most trustworthy news source, CCES News feels entitled to clear the air in this time of confusion. Analyzing every team from Duke to Fairleigh Dickinson, I've compiled my official 2019 NCAA Tournament Bracket picks and predictions:

EAST REGION (Washington)
First round
#1 Duke v.s. #16 North Dakota State
At the top of the East bracket is Duke, a high-powered, uber talented offensive team led by superstars R.J. Barrett and Zion Williamson. Combining for 45 PPG, this Shaq/Kobe-esque dynamic duo will likely have no problem with NDSU. Though last year's UMBC upset may inspire some to pick a 16 seed this year, I would strongly advise against it, especially when you're dealing with a team like Duke.
Prediction: Duke 97-54 NDSU
#8 VCU v.s. #9 UCF
One of the more intriguing matchups in the East region sees a VCU team coming off a tough loss to Rhode Island in the Atlantic 10 Tournament facing off against a fairly talented UCF team led by guards B.J. Taylor and Aubrey Dawkins, as well as 7'6" center Tacko Fall. While Fall's 8'0" wingspan will likely give a short VCU team fits, Taylor is a legitimate scoring threat and Dawkins, who put up 36 and 11 against Temple last week, will contribute greatly to a UCF win.
Prediction: UCF 69-63 VCU
#5 Mississippi State v.s. #12 Liberty
Mississippi State started off the season strong, holding just two losses as they moved into conference play. However, the Bulldogs fell apart against conference teams, winning just 10 conference games and finishing 6th in the SEC. Liberty, however, is a sleeper team with a slow, balanced offense that could give the Bulldogs fits. The Flames will look to their efficiency shooting the ball to keep them in the game, as they lose a tight one to MSU.
Prediction: Mississippi State 74-71 Liberty
#4 Virginia Tech v.s. #13 St. Louis
Virginia Tech is a team with a lot of offensive firepower, scoring 1.12 points per possession, a mark higher than Duke, UNC, Kentucky, Michigan, and Michigan State. With Justin Robinson back in the lineup, the Hokies are a dangerous team with quality wins over Zion-less Duke and Purdue. They likely won't struggle with the Billikens from St. Louis as they advance to the Round of 32.
Prediction: Virginia Tech 83-59 St. Louis
#6 Maryland v.s. #11 Belmont
Ending the season on a 6-7 run, this Maryland team reeks of inconsistency. Losing to Nebraska in the Big Ten Tournament was not a good look for the Terrapins and their struggles will continue against a strong Belmont team. This controversial at-large bid out of the Ohio Valley Conference is led by Dylan Windler, averaging 21.4 PPG and 10.7 RPG. Belmont is a great scoring team, putting up 86.9 PPG and scoring 1.14 points per possession. The Bruins pull off the 6-11 upset,
Prediction: Belmont 83-76 Maryland
#3 LSU v.s. #14 Yale
Coming off a regular season SEC title is the LSU Tigers, a balanced offensive attack left without their head coach, Will Wade, due to a recruiting wiretap scandal. Yale is a great fastbreak team, averaging over 13 fastbreak points per game, and they shoot the three well. This could potentially be an upset, as I'm not huge on LSU just yet, but I think the Tiger's athleticism carries them out of the first round.
Prediction: LSU 79-74 Yale
#7 Louisville v.s. #10 Minnesota
If Louisville could've held on to a 23-point lead against Duke, they might be sitting at a more generous seed line, but that simply wasn't the case for Chris Mack's group. Instead, they sit in the dangerous 7-10 spot. Fortunately, they face a Minnesota team that, despite signature wins over Purdue, struggled greatly in B1G play, going just 9-11 in conference games. Chris Mack has done a fantastic job taking over for Rick Pitino in Louisville and will lead the Cardinals to victory over Pitino's son, Richard.
Prediction: Louisville 75-66 Minnesota
#2 Michigan State v.s. #15 Bradley
Colleges with human first names just aren't made out for March Madness. Michigan State has struggled with injuries all year, but potential Wooden Award runner-up (let's face it, it's going to Zion) Cassius Winston has been instrumental in leading the Spartans to a Big Ten title. They won't struggle with Bradley.
Prediction: Michigan State 87-59 Bradley
Second round
#1 Duke v.s. #9 UCF
Though Duke has struggled to make it deep in the tournament at times, this year does not appear to warrant too early of an exit for the Blue Devils. Zion Williamson competing with 7'6", 310 pound Tacko Fall will be entertaining, but Duke is just too talented for the admittedly solid Knights to compete with. Duke may come out of the gate slow, but they'll get their bearings and advance with plenty of breathing room.
Prediction: Duke 85-68 UCF
#4 Virginia Tech v.s. #5 Mississippi State
In a matchup of strong 4 seed and a weak 5 seed, the Hokies rip apart the Bulldogs. Justin Robinson, Kerry Blackshear, and Nickeil Alexander-Walker will deliver on the offensive side of the ball, continuing to hit shots and dominate defenses. Mississippi State comes out of tired from a scrap with Liberty and finds themselves unable to keep up with the speed and talent of VT's offense.
Prediction: Virginia Tech 91-75 Mississippi State
#3 LSU v.s. #11 Belmont
Like I said before, I wasn't huge on LSU. And the Tigers won't be able to muscle Belmont like they will against Yale. The Bruins have the capabilities to embarrass LSU's defense with lights out shooting and a fiery pace. Belmont upsets LSU to reach the Sweet 16 for the first time in school history.
Prediction: Belmont 84-78 LSU
#2 Michigan State v.s. #7 Louisville
More than tempted to pick Louisville here, but Tom Izzo is just too good of a coach. While, once again, Chris Mack has done a phenomenal job at UL, Michigan State will avenge their loss from earlier this season in a nail-biter, as Louisville returns home disappointed.
Prediction: Michigan State 76-74 Louisville
Sweet 16
#1 Duke v.s. #4 Virginia Tech
After cruising to two early wins, Duke faces their first real test with VT. The Hokies handed the Blue Devils a loss earlier in the year. Granted, that was without Williamson, but Virginia Tech was also without arguably their best player in Justin Robinson, who averaged 18.5 PPG and 7 APG . Virginia Tech gives Duke a scare, but, once again, Duke's overall talent and offensive explosiveness overpower VT.
Prediction: Duke 81-78 Virginia Tech
#2 Michigan State v.s. #11 Belmont
For Cinderella, the clock strikes midnight. Belmont just can't hang with the Spartans, a team that holds the 18th highest defensive efficiency rating to go along with their impressive 16 fastbreak PPG. Belmont puts up a fight, but their defensive struggles become apparent as Michigan State moves on to the Elite Eight.
Prediction: Michigan State 85-72 Belmont
Elite 8
#1 Duke v.s. #2 Michigan State
Coaches Mike Krzyzewski and Tom Izzo are very familiar with each other and have been engaged in a very one-sided rivalry since Izzo took over at MSU in 1995. Coach K is 11-1 against Izzo, including a 20-point win in the Final Four in 2015. Duke and K continue that winning pattern and defeat the Spartans behind impressive performances from Zion Williamson, RJ Barrett, and Tre Jones, who shuts down Cassius Winston in an impressive defensive display.
Prediction: Duke 76-65 Michigan State
East Region Champ: Duke Blue Devils
WEST REGION (Anaheim, California)
First round
#1 Gonzaga v.s. #16 Fairleigh Dickinson
All due respect to the Fairleigh Dickinson for their win over Prairie View A&M. But Gonzaga is simply too good of a team offensively to pull a Virginia. Rui Hachimura, Killian Tillie, and Brandon Clark make this Gonzaga team one of the most well-rounded and balanced offensive attacks in the country. Easy win for the Bulldogs.
Prediction: Gonzaga 96-52 Fairleigh Dickinson
#8 Syracuse v.s. #9 Baylor
Any Jim Boeheim team is dangerous in the tournament and it's always a risk to bet against the Orange come March. And this year is no different. Led by talented guard Tyus Battle, Syracuse is a very dangerous, balanced team. Their defensive capabilities with Boeheim's 2-3 zone has given teams fits all year and Baylor will struggle with it as well. Syracuse makes it out of the first round and is a dangerous matchup for the Zags.
Prediction: Syracuse 68-56 Baylor
#5 Marquette v.s. #12 Murray State
Wow. It doesn't get much better than this. Two of the most electrifying players in college basketball, Marquette's Markus Howard (25.0 PPG, 4.0 RPG, 4.0 APG) and Murray State's Ja Morant (24.6 PPG, 5.5 RPG, 10.0 APG) square off in what is sure to be an incredible offensive battle. Both players are capable of leading their teams in deep Steph Curry/Davidson-esque tournament runs, and it's a bit of a disappointment that the committee had these two teams facing off in the first round. it. Markus Howard has the ability to drop 50 points in a game and the Golden Eagles shoot an astounding 39.3% from behind the arch. If Marquette can get the shots falling, it'll be a solid win for them, but you can't count out Murray State's ridiculously efficient offense (with an impressive 1.141 points per possession). I think Marquette edges out Morant and the Racers in a wild, exciting 5-12 game.
Prediction: Marquette 88-85 Murray State
#4 Florida State v.s. #13 Vermont
If Florida State showed you one thing in the ACC tournament, it's that they are a dangerous, under-the-radar team. The Seminoles ripped apart Virginia with a quiet, balanced offensive attack and solid post defense. This Florida State team is big and athletic, matching up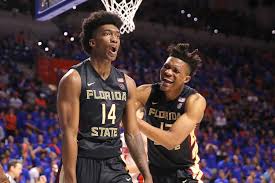 well with Vermont's aggressive, athletic lineup lead by Anthony Lamb. Florida State will be in for a scrap against the Catamounts, but I think the Seminoles hold on and advance to the 2nd round.
Prediction: Florida State 75-68 Vermont
#6 Buffalo v.s. #11 St. John's
You may remember Buffalo as the team that destroyed your bracket as a 13 seed last year, upsetting Arizona in the first round. Well, they're back and they're even better. CJ Massinburg is a very well-rounded and explosive guard, who, at 6'3" averages nearly 7 RPG in addition to his 18 PPG. St. John's, however, is legit. Point Guard Shamorie Ponds is impressive in nearly every facet of the game and a potential matchup with Massinburg will be interesting. Many may underestimate the legitimacy of Buffalo as a 6 seed, but, believe me, they're good. That being said, I think the Bulls receive a taste of their own upset medicine, as the Red Storm storm past Buffalo in a tight one.
Prediction: St. John's 76-74 Buffalo
#3 Texas Tech v.s. #14 Northern Kentucky
I feel for Northern Kentucky. They are a decently talented offensive team with solid 3-point shooters and raw scorers. They can push the ball up the court with impressive efficiency and are solid all around on offense. However, they are matched up with one of basketball's stingiest defenses with Texas Tech. The Red Raiders, led by Big 12 Player of The Year Jarrett Culver, create turnovers at an incredible rate and are able to defend the 3 ball very well. The Norsemen will struggle to compete against the Texas Tech defense, as Culver has a huge game. Texas Tech advances.
Prediction: Texas Tech 84-55 Northern Kentucky
#7 Nevada v.s. #10 Florida
Nevada came into this season riding off an impressive tournament run, ranked high in preseason polls. It looked to be a promising year for the Wolfpack, but it never amounted to more than a dissapointment. Finishing with a 29-4 record, Nevada comes into this game with a chip on their shoulder. Led by seniors Caleb Martin and Jordan Caroline, Nevada is an experienced, offensively talented team that creates an interesting matchup against the defensive-minded Gators. Like Texas Tech, Florida defends shots behind the arch very well and cause a lot of turnovers. But Nevada's experience and offensive ability will overpower the Gators.
Prediction: Nevada 78-68 Florida
#2 Michigan v.s. #15 Montana
A rematch of last year's first round matchup, Michigan will likely enjoy the same result. The Wolverines are a talented defensive team that will give some teams fits this March. Montana, though they are your 2019 Big Sky champion, will find themselves unable to handle UM's defense and fall to the Wolverines in a blowout.
Prediction: Michigan 84-54 Montana
Second round
#1 Gonzaga v.s. #8 Syracuse
This is where it gets interesting. Syracuse is a talented, well-coached defensive team that has quality wins over Duke and Louisville. Gonzaga is a talented, well-coached offensive team that has earned their 1 seed with continued success throughout the year. Seeing a Gonzaga offense that scores 1.21 points per possession match-up against Boeheim's 2-3 zone will make for an incredibly entertaining game. But, despite their solid game plan and coaching, Syracuse lacks the talent to slow down Gonzaga's Killian Tillie and Rui Hachimura, as the Zags advance to the Sweet 16.
Prediction: Gonzaga 75-63 Syracuse
#4 Florida State v.s. #5 Marquette
Both teams enter this game surviving upset scares, and it will show. Florida State is an incredibly balanced and deep offensive team that doesn't rely on one superstar to take over. Marquette, however, lives by the 3 and is….a lot worse without Markus Howard. Florida State's bench and coaching from Leonard Hamilton will help them advance to a Sweet 16 rematch with Gonzaga.
#3 Texas Tech v.s. #11 St. John's
Against Duke earlier this year, Shamorie Ponds faced off against talented defensive PG Tre Jones, who completely clamped up Ponds. There's no doubt that he's a talented PG, but Ponds will go through exactly what he went through versus Duke if the Red Storm face the Red Raiders. Jarrett Culver is superhuman and an all-around incredible basketball player. St. John's may have been able to pull off one upset, but I don't see two in their future, as Texas Tech moves on to the Sweet 16.
Prediction: Texas Tech 72-56 St. John's
#2 Michigan v.s. #7 Nevada
John Beilein's team got off to a hot start this year, but struggled near the end of the year. This Michigan team, however, is still one of the better defensive teams in the country and is disciplined, as always. On offense, Michigan is nothing special, and the Wolf Pack will give Michigan some trouble. But Michigan is just too disciplined and too efficient on the defensive end to not make the Sweet 16.
Prediction: Michigan 79-76 Nevada
Sweet 16
#1 Gonzaga v.s. #4 Florida State
After dealing with the stingy, annoyingly efficient Syracuse defense, the Zags will come into this game tired. Florida State, however, has the depth to compete in this game, and the size down low to battle with Tillie. The Seminoles took out Virginia with their depth, size, and experience and will take out Gonzaga for the 2nd straight year with the same formula.
Prediction: Florida State 74-68 Gonzaga
#3 Texas Tech v.s. #2 Michigan
This is an incredible matchup of two incredible defensive teams. While Texas Tech is coming off fresh from an easy win over St. John's, Michigan struggled with 7 seed Nevada. This will help the Red Raiders greatly, as they are very capable of hitting 3s and putting up points, as well as shutting down offenses. Texas Tech advances to the Elite 8
Prediction: Texas Tech 63-57 Michigan
Elite 8
#3 Texas Tech v.s. #4 Florida State
With a vulnerable 1 seed and a weaker 2 seed in this bracket, a 3-4 matchup in the Elite 8 is more than possible. Florida State would make it here with a deep team capable of dominating down low, while Texas Tech makes it here with its impressive defensive efficiency. In the end, Texas Tech escapes the West region behind Jarrett Culver and strong shooting performance from the rest of the Red Raiders. Texas Tech moves on to the Final Four.
West Region Champ: Texas Tech Red Raiders
SOUTH REGION (Louisville, Kentucky)
First round
#1 Virginia v.s #16 Gardner-Webb
Considering how their season ended last year, I don't expect Virginia to come into this game over-confident or overlooking Gardner-Webb. The Bulldogs emerged victorious from the Big South tournament and earned their first ever NCAA Tournament berth. They, however, are not this year's UMBC. Virginia is once again a great defensive team and won't let a 16 seed get them this time. Cavaliers advance with little resistance.
Prediction: Virginia 89-52 Gardner-Webb
#8 Ole Miss v.s. #9 Oklahoma
This Oklahoma team is not the same one we saw last year: no Trae Young. Instead of being a team defined by inefficient shooting behind the arch and constant offense, the Sooners are a defensive team anchored by Brady Manek and Christian James. Ole Miss has a very talented backcourt that creates a lot of turnovers. This game is as close to a toss-up as it gets, but Ole Miss' resume is much more impressive (two wins over SEC champ, Auburn and a win over Mississippi State, along with a few very impressive close losses). Take the Rebels to the Round of 32.
Prediction: Ole Miss 70-67 Oklahoma
#5 Wisconsin v.s. #12 Oregon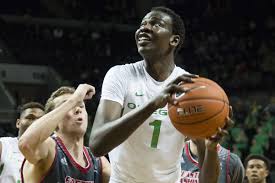 Oregon came into this season with a wave of hype around 5-star recruit Bol Bol. Bol, unfortunately, was injured early this season, crushing the dreams of Ducks fans everywhere. Dana Altman, however, has done a fantastic job pushing Oregon through adversity, as the Ducks won the Pac-12 in order to clinch a tournament spot. Wisconsin is a tough defensive team with one of the best offensive players in the country in Ethan Happ. While the Ducks are probably the strongest 12 seed, Wisconsin matches up well against Oregon and will be able to weather the Bol Bol-less Ducks.
Prediction: Wisconsin 65-61 Oregon
#4 Kansas State v.s. #13 UC-Irvine
UC-Irvine's mascot alone is enough for me to take them in this game (Go Anteaters!), but their defense is what is truly impressive about this team. On average, they hold teams to just 43% shooting from the floor, 4th in the league. Kansas State is also a strong defensive team and, if healthy, has one of the best passers in the NCAA in Dean Wade. If Wade plays, the Wildcats hold the upper hand. But, if he's out or not playing 100%, UC-Irvine can pull off the upset. I'll take the Anteaters.
Prediction: UC-Irvine 74-68 Kansas State
#6 Villanova v.s. #11 St. Mary's
Villanova at the 6 seed should come as a surprise, not due to any fault by the selection committee in analyzing their season, but just because of how impressive they've been the last 4 years. Jay Wright is an incredible coach and, despite losing a lot of veteran talent after last year's championship, has an efficient offense firing on all cylinders. Seniors Phil Booth and Eric Paschall will lead Villanova to a victory over an underrated St. Mary's team that took down Gonzaga to win the WCC. Villanova's experience and coaching should lead them to a win, but the Gaels balanced attack is dangerous.
Prediction: Villanova 65-62 St. Mary's
#3 Purdue v.s. #14 Old Dominion
Purdue's squad is one of the best at scoring efficiently. Old Dominion's squad is one of the best at defending efficiently. While the Monarchs are a dangerous 14 seed capable of putting teams on upset alert, Purdue matches up well, pure scorers like Ryan Cline and Carsen Edwards. Old Dominion may give them a scare, but Purdue advances to the Second Round.
Prediction: Purdue 74-70 Old Dominion
#7 Cincinnati v.s. #10 Iowa
The Bearcats have been impressive all year, much better than their 7th seed suggests. They are a slow-paced, defensive team that can hang with pretty much anybody. Iowa is a very well-coached team that ended the season losing 6 of their last 7. Cincinnati has more playmakers and is too good defending the ball to lose this early. Bearcats advance.
Prediction: Cincinnati 65-58 Iowa
#2 Tennessee v.s. #15 Colgate
Led by stars Grant Williams and Admiral Schofield, this Tennessee team is a very talented one. Colgate is decent and could potentially give the Vols a run for their money, but Tennessee is just too talented to lose this early in the tournament. Tennessee advances to the Round of 32.
Prediction: Tennessee 89-64 Colgate
Second round
#1 Virginia v.s. #8 Ole Miss
Virginia's talent and effective play style have carried them a long way, and that will continue against Ole Miss. The Rebels are inconsistent, and cannot defend for the life of them. The Cavaliers, meanwhile, are the opposite: very consistent with an incredible defense. Tony Bennett coaches Kyle Guy and the Cavs to the Sweet 16, looking for revenge after their poorly timed exit last year.
Prediction: Virginia 74-55 Ole Miss
#5 Wisconsin v.s. #13 UC-Irvine
Wisconsin is not an incredibly impressive 5 seed. Led by the inconsistent Ethan Happ (Happ can be the best player in the NCAA or average), Wisconsin may struggle against the hot UC-Irvine. But the Anteaters just don't have the athleticism or firepower to combat the Badgers. It was fun while it lasted, but UC-Irvine is not a Sweet 16 team.
Prediction: Wisconsin 76-61 UC-Irvine
#3 Purdue v.s. #6 Villanova
Nova is going to be exhausted after that St. Mary's game and Purdue is going to come after with with a polished, efficient offensive attack. Villanova defends well, but Carsen Edwards will go off on the Wildcats, leading Purdue past the first weekend.
Prediction: Purdue 73-65 Villanova
#2 Tennessee v.s. #7 Cincinnati
This was an incredibly tough matchup to spell, and it will be an incredibly tough matchup for both teams. Cincinnati's pace allows for them to stick with a team as good as Tennessee, and Jarron Cumberland is capable of leading this team to offensive success. While the Vols have a ton of talent, I think Cincinnati has the capabilities to take out the 2 seed. Bearcats to the Sweet 16.
Prediction: Cincinnati 65-56 Tennessee
Sweet 16
#1 Virginia v.s. #5 Wisconsin
Wisconsin will have stumbled their way into the hands of Virginia and Tony Bennett's squad will take full advantage of that. This game is where Ethan Happ's painful inconsistnecy will show. The Badgers rely on Happ heavily for their offense to run, and if he's not playing 100%, the Badgers play incompetent basketball. When faced with a stout UVA defense, Happ will struggle and Wisconsin will look lost and confused on offense. On the other side of the ball, Kyle Guy, Ty Jerome, and De'Andre Hunter will lead this squad past the stingy Badgers with incredible 3 point shooting ability. Virginia moves on.
Prediction: Virginia 76-58 Wisconsin
#3 Purdue v.s. #7 Cincinnati
Cincinnati's upset win over Tennessee pits them against a formidable Purdue fresh off wins over St. Mary's and Villanova. The Boilermakers offense will be firing on all ends at this point, and it will carry them to a victory over the exhausted Bearcats. Purdue advances.
Prediction: Purdue 75-64 Cincinnati
Elite 8
#1 Virginia v.s. #3 Purdue
It's simple: Virginia is a better team in almost every aspect of the game. Impressive of defense and talented on offense, this Cavaliers team will not be stopped by the Boilermakers. UVA's star-studded backcourt, Guy, Jerome, and Hunter, will bring it this tournament and find themselves in the Final 4.
Prediction: Virginia 71-60 Purdue
MIDWEST REGION (Kansas City, Missouri)
First Round
#1 North Carolina v.s. #16 Iona
It appears that this year will not have a magical repeat of the UVA-UMBC incident last year. UNC is just too good of a team to fall in the 1st round, with a complete, balanced offense led by Luke Maye capable of scoring on pretty much any team.
Prediction: UNC 94-65 Iona
#8 Utah State v.s. #9 Washington
This Utah State team is criminally underrated and is lead by Mountain West POY Sam Merrill, a scoring machine capable of putting up a ton of points (21.2 PPG). The Aggies are a strong team down low and defend well in the paint. Washington, however, has the best on-ball defender in the country in Matisse Thybulle, who averages 3.5 SPG and 2.3 BPG. This will be a hard-fought physical battle where I see the Aggies coming out victorious.
Prediction: Utah State 65-57 Washington
#5 Auburn v.s. #12 New Mexico State
3 weeks ago, New Mexico State would've been my pick. They're a team with a very solid record (just 4 losses) and a solid offense. However, the Tigers are red hot, coming of an SEC Tournament win where Auburn simply dismantled 2 seed Tennessee. Bryce Brown has this team scoring effectively and on a hot streak. Take the Tigers.
Prediction: Auburn 81-68 New Mexico State
#4 Kansas v.s. #13 Northeastern
If Kansas had drawn a team like Vermont first round, I would have bet against the Jayhawks, but Bill Self will not lose to Northeastern. While the Huskies are an experienced, sharp-shooting team that could give Kansas some trouble, they just haven't looked impressive in any of their key matchups this year (28 pt loss to VT, 23 pt loss to Syracuse). This is not anywhere near the best Kansas team we've seen recently, but take them in this one.
Prediction: Kansas 75-59 Northeastern
#6 Iowa State v.s. #11 Ohio State
Iowa State comes into the tournament fresh off a Big 12 championship win and is 6-3 against Top 25 teams this year, including two wins over Kansas and a win over Texas Tech. The Cyclones have a highly efficient balanced offense that will harass the Buckeyes, who are just 1-8 against teams in the top 25. The Cyclones advance as a dangerous team.
Prediction: Iowa State 87-65 Ohio State
#3 Houston v.s. #14 Georgia State
Don't take Houston lightly just because of their conference; the Cougars are a decent 3 seed and have an incredibly talented backcourt with Armoni Brooks and Corey Davis Jr. Georgia State is a dangerous team simply due to their 3-point shooting ability. Unfortunately for the Panthers, hey just don't match-up well with Houston. Houston will be vulnerable against a big, athletic team, as that is what the Cougars are not. Georgia State is also not. Expect Georgia State to stay in it with their shooting, but for the Cougs to come out victorious.
Prediction: Houston 81-73 Georgia State
#7 Wofford v.s. #10 Seton Hall
BPI has Wofford ranked at 17 in the country, and many say that this team is criminally underseeded. Just watching the Terriers makes you realize just how exciting and explosive they can be: their 3-point shooting is incredible. However, their resume is lacking. Seton Hall is the polar opposite. The Pirates statistically shouldn't hang with Wofford, but wins over Kentucky, Villanova, and Marquette (twice) make Seton Hall appear to be more than capable of winning. If the shots fall for Wofford, they win easily, but, if they don't, the Pirates win. It's a toss-up, but I'll take Wofford simply due to their impressive offensive efficiency.
Prediction: Wofford 84-76 Seton Hall
#2 Kentucky v.s. #15 Abilene-Christian
Though Kentucky's season got off to a bit of a rocky start with a 34 point loss to Duke, UK has constantly improved throughout the season. With a group of talented, athletic underclassmen like and a HOF fame coach in John Calipari, this Kentucky team might fly under some people's radar. That being said, they will not lose to Abilene-Christian, a team with a single 34-point loss to a ranked team (Texas Tech).
Prediction: Kentucky 98-65 Abilene-Christian
Second Round
#1 North Carolina v.s. #8 Utah State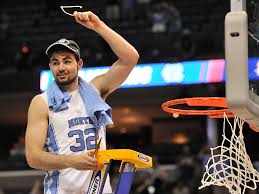 Utah State will find themselves in UNC's path early, unfortunate for the Aggies because of how poorly they matchup up with the Tar Heels. Luke Maye is a force down low and will stop anything the Aggies try down in the paint. Utah State is good, but North Carolina is just simply better in every way.
Prediction: North Carolina 87-69 Utah State
#4 Kansas v.s. #5 Auburn
The red-hot Tigers take on the young, inexperienced Kansas Jayhawks. While Kansas has an upperhand talent-wise, I think Auburn is, overall, a better team and has been playing incredibly well recently. Bill Self and Kansas are always capable of making deep tournament runs, but I don't think the Jayhawks make it past Bryce Brown and Auburn.
Prediction: Auburn 76-71 Kansas
#3 Houston v.s. #6 Iowa State
Though Iowa State does lack the ideal size to expose Houston, they do have a level of athleticism that the Cougars can't match. 6'6" guard Marial Shayok is a great scorer, averaging 18.6 PPG along with 5 RPG. The Cyclones, though ending their regular season on a skid, emerged victorious from a challenging Big 12 tournament and are riding a wave of momentum into the tournament. I'm taking Iowa State in the upset.
Prediction: Iowa State 76-68 Houston
#2 Kentucky v.s. #7 Wofford
In this scenario, Wofford is coming off a win over Seton Hall, a solid team who took down Kentucky earlier in the year. If Wofford wants to stand a chance against a bigger, stronger, faster Kentucky, they have to make shots. The Terriers are very "live by the 3, die by the 3", and I think that gets them into trouble against a talented and well-coached Wildcats team. They'll put up points, but it won't be enough. Kentucky advances.
Prediction: Kentucky 86-76 Wofford
Sweet 16
#1 North Carolina v.s. #5 Auburn
Both very talented offensive teams with impressive resumes, this will be one of the more entertaining matchups of the Sweet 16. Coby White-Bryce Brown will be a classic matchup that will produce a lot of points, but I think UNC is able to outrun the Tigers with their blistering pace. North Carolina moves on to the Elite 8.
Prediction: North Carolina 87-76 Auburn
#2 Kentucky v.s. #6 Iowa State
Iowa State's run will come to an end at the hands of the Wildcats, as UK's talented group will be able to take full advantage of the Cyclones' struggles on defense. Tyler Herro, PJ Washington, and Keldon Johnson will lead the Wildcats onto the Elite 8.
Prediction: Kentucky 84-71 Iowa State
Elite 8
#1 North Carolina v.s. #2 Kentucky
A classic battle of blue bloods here. Two legendary coaches. Two incredibly talented teams. The only difference here is experience. UNC has veteran leaders like Luke Maye who have been here before and know how to handle the pressure of the Elite 8, and the Tar Heels will advance because of it.
Prediction: North Carolina 81-73 Kentucky
Final Four
#1 Duke v.s. #3 Texas Tech
The talented Blue Devils already took on Texas Tech earlier this year, and took care of them handedly. That was when Texas Tech was at full strength on a hot streak, and Duke will be able to handle them again. Zion Williamson and RJ Barrett are too good on offense to be slowed down by the Raiders, and, if given the opportunity, Tre Jones will be all over Big 12 POY Jarrett Culver. Duke moves on to the national championship.
Prediction: Duke 76-63 Texas Tech
#1 Virginia v.s. #1 North Carolina
Two experienced, familiar ACC teams face off in the Final Four. Classic case offense v.s. defense. To be truthful, Virginia is a better team on paper and have an 8 point win over the Tar Heels earlier this year. But UNC is hot and has the offensive explosiveness to win this game handedly. UVA's defense will slow them down, but UNC moves on to the championship.
National Championship
#1 Duke v.s. #1 North Carolina
In what guarantees to be the most hyped national championship ever, Duke and North Carolina square off for the 4th time this season. UNC is 2-1 against Duke, but 0-1 when Duke has Zion Williamson. Duke-UNC is a rivalry that turns meaningless regular season games into national events, so facing off against each other in the title game would bring a whole new level of intensity never before seen. Duke's Zion Williamson, Tre Jones, and RJ Barrett have had decent success against the Tar Heels, even when Cam Reddish and others are suppressed by the UNC defense. UNC's offense is almost as high-powered as Duke's, but is a little more balanced and has a lot more experience. Ultimately, I think the raw talent and athleticism of Duke gives them the upper hand in a game like this, as Duke is crowned National Championship in an OT thriller against UNC.
Prediction: Duke 82-79 UNC