College of the Month: University of Richmond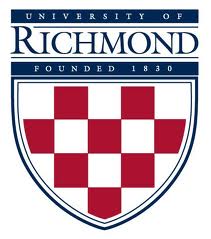 On Wednesday, February 6 Meaghan Carrigan signed to play soccer for the University of Richmond. She has now joined an elite group of Christ Church graduates who have become University of Richmond Spiders.
The University of Richmond has 3,389 students in its spacious campus in the capital of Virginia. The center of the campus is a 10-acre lake and includes many beautiful red brick buildings and lots of green space. One of these green spaces is the Westhampton Green. Even though Richmond has plenty of green space on campus, its students are never out of the loop; Richmond is an entirely wireless campus.
But the University of Richmond is more than a pretty campus. Richmond is ranked 28 in the National Liberal Arts Colleges category of the U.S. News and World Report. Part of how this university earns this rating is by its intimate learning environment. With a small 8-to-1 student-to-faculty ratio, and 67.4% of classes with less than 20 students, a student at the University of Richmond will never just be one of the masses to their professor. There are also no teaching assistants, so every class is taught by professors in their fields.
The academics at the University of Richmond are divided among five schools: the School of Arts and Sciences, the School of Professional and Continuing Studies, the School of Law, the Robins School of Business, and the Jepson School of Leadership Studies.
The final school is the Robins School of Business. The business school has been gaining popularity in recent years. The University of Richmond was ranked number one by Bloomberg Businessweek in 2011 for  international business education and was also named the "Hottest School in America" by Newsweek in 2007 for international studies programs. Also, Richmond opened the Carole Weinstein International Center in 2010.
Though all Richmond students have strenuous academic work, they also have a lot of fun on campus. There are more than 170 student organizations on campus that range from a Flash Mob Club to a Men's Rugby Club. The University of Richmond also has a strong Greek Life. There are seven sororities, which are currently celebrating their 25th year on the Richmond campus. Along with the sororities, there are also seven fraternities at Richmond. These Greek Life organizations participate in philanthropic programs and programs to help their members post-graduation from the University or Richmond.
The University of Richmond is a place of international studies, intimate classes, and exciting social outings. With all that the University of Richmond has to offer, it is easy to understand why so many Christ Church students include this school in their college search.