The Learned Ladies: Fall Drama 2015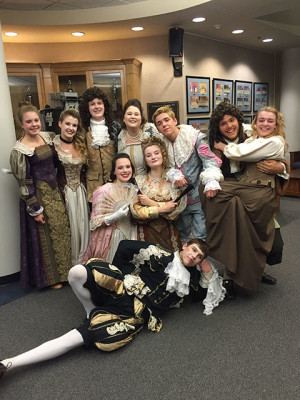 "I only hate knowledge and wit when they spoil people. These are things good and beautiful in themselves. . ."
This past October, the Christ Church fall drama cast brought the wittiness and artistry of Molière's The Learned Ladies to life.
The Learned Ladies is a play written entirely in rhyming couplets. The play centers on a prominent French family, including a tyrannical mother, submissive father, headstrong daughter, pretentious sister, and a self-centered aunt. Unsurprisingly, these fierce personalities clash, causing a great divide within the family. The family feud tests the values of love, power, intelligence and gender roles throughout the course of this humorous drama.
David Sims, Upper School Associate Director of the Arts, explained that he selected this particular play because "it lent itself to a small performance space," perfect for the high school's lower commons. He also had experience working with this play in college and remembered he really liked it at the time. The Learned Ladies, according to Sims, is "one of Molière's best plays" and "a really good example of farce."
The rhyming couplets, however, presented challenges for many of the actors. Senior student actress Lindsay Hardy, playing the role of Armande, explained, "it was more than just memorizing lines; it was memorizing the exact order of the words that made the task so difficult." Nevertheless, the students persevered and tackled the script with confidence in the opening production. Senior Maggie Ramirez later reflected, "The verses were challenging, but Mrs. Carter's class prepared me for memorizing all those lines."
The small stage set also posed new challenges for the students. In past years the fall drama took place in the spacious Lower School activity room and auditorium, so the tight setting of the lower commons was a new experience for the student actors. According to Maggie, Sims "designed the stage in a clever way," using the "thrust" theater setup, in which the audience surrounds three sides of the stage leaving the fourth side closed as a backdrop. "The placement of the audience," Maggie stated, "forced us to go outside the box, in movements and interactions between characters."
Despite these difficulties, the students still enjoyed practicing and performing the fall drama this year. "The rehearsals were always fun," revealed junior actress Marisa McGrady, "It was great that we could hang out and be artistic at the same time."
In the end, The Learned Ladies was a fantastic success. "The kids did a great job," Sims said, "and the proof is that audiences understood the story despite the complexity of the language." This play, with its lively characters and intriguing plotline, perfectly showcased the skill of the Christ Church student actors and raised the standard for the fall dramas to come.