Carrigan Signs with University of Richmond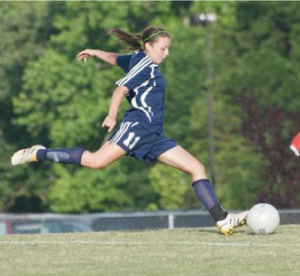 Senior, Meaghan Carrigan represented the Class of 2013 this year on college signing day by signing to play for the University of Richmond.  U of R is a Division I University located in Richmond, Virginia and participates in the Atlantic Coast Conference.
Since age three, Carrigan has been inseparable from the soccer field.  Carrigan started her soccer career playing with a boys' league in Atlanta, GA.  As she got older, she moved to Greenville, SC and began playing for the St. Giles United soccer club.  A few years after, St. Giles merged with nearby soccer club, Greenville Futbol Club to form what is now know as Carolina Elite Soccer Academy (CESA.)
Carrigan has always excelled at soccer and began her travel career playing an age group up.  Beginning at the U-14 level, Carrigan went on to be the captain of her club team, and still currently holds the position.  Her club team, CESA '94 Premier, is a 7-time state champ, a National Championship Best 11 Team, Region III Champion, and a member of the Elite Clubs National League.
Last summer during the team's Region III tournament, Carrigan was awarded the "Golden Boot" accolade.  Teams from all over the South East participate in the tournament, but only one player is chosen to receive the Golden Boot.  The prestigious award is given to the most outstanding player of the entire tournament.
Although Carrigan plays an integral role on her club team, she plays an equally big or bigger role on her high school team.  As a freshman, Carrigan was awarded the All-Region and Most Valuable Rookie Awards.  Sophomore year, Carrigan was awarded All-Region along with a much deserved All-State and Most Valuable Player award.  Leading the team in goals her junior year, Carrigan was able to help her team to a state championship title—the first ever since 2001; her work did not go unnoticed.  At the conclusion of the season, Carrigan was awarded 1A/2A High School Player of the Year in addition to another All-State title and Most Valuable Player award from her team.
In her final year as a senior, Carrigan has not faltered. Earlier this year, Carrigan was named as one of eight forwards in the entire United States to the Women's Academic All American team.  On winning the award, Carrigan said, "It was such an honor being named to a team on a national scale, especially one that incorporates school and soccer."  According to nscaa.com, any player nominated to be part of the Academic All American team must have a cumulative 3.75 GPA, demonstrate excellence in soccer abilities, and serve her community. The process to being named to the team is very selective and very few are actually chosen.  After being named to the team, Carrigan along with CESA teammate Chelsea Drennan, traveled to Indianapolis to meet with the other Academic All American teammates.
Having personally played with Carrigan, I know the effort and heart she puts into the game every time she steps on the field.  She is the type of person who gives it her all, all of the time.  Seeing her transform over the years and turn into the person and soccer player she is today is an absolute pleasure.  As a young kid, I remember a time when she was facing difficulties with soccer because of her size.  However, I vividly remember her having a piece of paper printed out with Freddy Adu on it that said, "It's not the size of the dog in the fight, but the size of the fight in the dog."  She battled through it and came out on top—with a trophy case full of awards.  Although not as small anymore, she still has an enormous fight and drive she puts forth in every aspect of the game.
Starting in July, Carrigan will pack up and move to Richmond to begin pre-season training for the Richmond Spiders.  The team's head coach is Peter Albright and is assisted by Carter Blair and Peter Nash.  When asked what she is most excited for next year Carrigan said, "I'm really looking forward to traveling to places like Boston and Philadelphia to play. I'm also excited to meet new people from all across the country." There is no doubt Carrigan will help catapult the Richmond Spiders to many victories next season.  The best of luck Meaghan!