Head of the DEA Comes to Greenville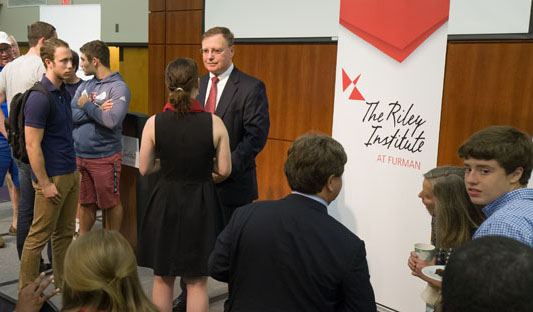 The Riley Institute at Furman University provides a great resource for CCES and other Greenville area students by bringing prominent speakers to Greenville to give lectures on a variety of disciplines. For example, this fall the current head of the Drug Enforcement Agency (DEA), Chuck Rosenberg, came from Washington to speak about the rising drug problem in the United States and about the growing threat of the terrorist group ISIS.
Rosenberg began his talk by displaying a disturbing graph that showed the sharp increase of deaths due to drug overdose in recent years. According to Rosenberg, overdose deaths in recent years have been double the amount of deaths due to car accidents and nearly double the amount of deaths due to firearms. He attributed the rise primarily to heroin use. Heroin addiction can be developed by overusing addictive painkillers such as oxycodone. He indicated that there is a strong correlation between drug use and violent crime in American cities. He also commented on the danger posed to his DEA agents by the growing power of drug cartels.
Mr. Rosenberg previously served as chief of staff to FBI Director James Comey. Thus, the second part of Mr. Rosenberg's discussion was on the rise terror group ISIS which was a focus of his tenure at the FBI. He contrasted ISIS with Al Qaeda, another well-known terrorist group. He explained that while Al Qaeda tended to perform large and showy attacks, ISIS uses more subtle and insidious methods to accomplish their goals. Mr. Rosenberg then explained that ISIS recruits its members by using social media to reach out to people who are "not quite all there." Once they have recruited somebody, they contact that individual through "dark sites" on the internet that cannot be tracked by agencies such as the FBI and instruct the recruit to "kill where [they] are." Mr. Rosenberg's information on ISIS is especially relevant now as ISIS has claimed responsibility for the bombing of a Russian passenger jet on October 31 and the numerous bombings and shootings that took place in Paris on November 13. The threat of ISIS has increased dramatically even since Mr. Rosenberg gave his speech only earlier this fall.
Mr. Rosenberg closed his presentation by fielding questions on his topics from the Furman students and others attending the talk. After aptly answering all of the questions, Mr. Rosenberg gave some very helpful advice to the students at Furman which is equally applicable to CCES and other high school students. He said not to be concerned about entering college without knowing what you would like to do as a career, admitting that he certainly did not when he was a young man. He emphasized the importance of developing character over developing skills and also touched on the importance of lifelong service. In his closing remarks, he spoke affectionately about his country, declaring that everyone in the room had "won life's lottery" just by being born in America.