2020-2021 Basketball Preview: Christ Church Varsity Boys Begin Journey to State
November 23, 2020
There is an old French phrase, dating back to the 12th century, that reads: Rome ne fu[t] pas faite toute en un jour, translated to, Rome was not built in a day. This quote rings especially true for this years' Christ Church boys basketball team. The 2020-2021 basketball season will be Year 4 at the helm of Coach John Butler, who, since taking over after a 2-18 season in 2016, has led the Cavs to a 54-20 record, an impressive turnaround. After a tough loss in the second round of the 2018-2019 playoffs, the Greenville News wrote a piece about the team, entitled "Why Christ Church Boys Basketball is Thrilled About Its Future." Since that article was written, the team has accumulated a 0.788 win percentage and won two region titles, all while graduating just 1 player. 
This year's team returns their top 4 leading scorers last year, led by a talented duo of seniors in Bennett Rogers and Florida State commit John Butler. 5-star Jordan Butler looks to take huge leaps this year as a sophomore and assert himself as one of the top players in his class, and the junior duo of Mason Johnstone and Sam Perry only continue to become more dominant. Everything looks to fall in place for a third straight region title and a continuation of Christ Church basketball success. But the truth is, for this year's team, Rome still has not been built. 
"There's definitely a goal that we've set for ourselves," says Junior Mason Johnstone, "To win state." With a lot of the core players for the Cavs entering their 4th year together, there's a sense that this is the season that they've been preparing for with anticipation.
Johnstone praises the aforementioned leadership from Butler and Rogers, as well as the team's young talent, such as 9th grader DJ Harvey, who Johnstone praises as both "playing and leading beyond his years." The balanced attack that Christ Church brings this year is driven by an ability to score at all three levels and an elite post defense led by the Butler brothers, who combined for a total of 5.5 Blocks per game last season. 
But, as this experienced group looks to take the coveted 2A state title, the road will likely have to run through Gray Collegiate Academy, who beat the Cavs in the playoffs on the way to their 3rd straight title last year. 
"Beat Gray," emphasized senior Bennett Rogers, "That's the goal." 
---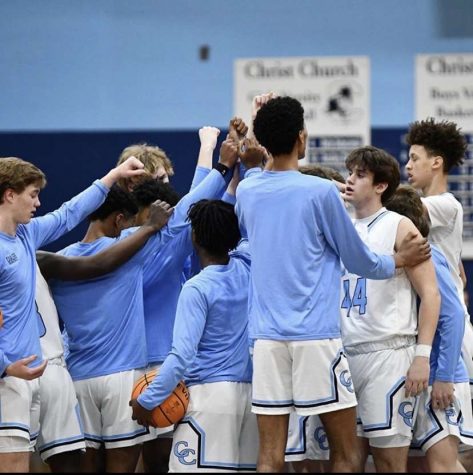 While Gray very well may appear on Christ Church's schedule, a notable absence will be rival St. Joseph's, who took the Cavs off their schedule for this season, much to the displeasure of the team. 
"Those games have a different energy no matter where they're played," said Johnstone, "We realize it's a respect thing. They know where they stand in comparison to us."
While the St. Joe's-CCES series won't be played this season, Johnstone feels that the absence will be insignificant in the grand scheme of things, with the Cavs planning "for bigger and better things ahead, at the end of the day," as the team looks onto lifting the state trophy in March.