Cavalier Baseball wins their first game at Fluor Field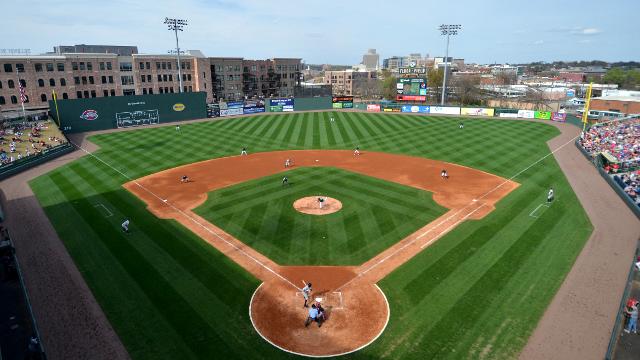 milb.com

Every kid dreams of playing at a Major League ballpark when they're older. Members of the Christ Church baseball team got to fulfil that dream in a sense last Thursday by playing their annual game at Fluor Field against St. Joes. While The Greenville Drive are only an affiliate of the Red Sox and are not actually in the Major Leagues, the experience is one that the players will never forget.
Christ Church went into the game as the undisputed underdogs following two consecutive losses against Landrum, who was swept by St. Joes the week before. However, the Cavs did not let their situation deter them. After being down 5-1 early in the game, the Cavs responded by scoring two runs in the third inning, three runs in the fifth, and four in the sixth – all while holding the Knights to just two runs throughout the final four innings. Winning the game was not only a crucial win against a tough region opponent, but was also the first game that Christ Church won at Fluor since they started playing there almost ten years ago.
The next day, the two teams rematched at "The Castle" (St. Joes). The game was scoreless through the first three innings, but the Cavs rallied in the top of the fourth, scoring three runs. The Cavaliers carried their momentum into the next inning, scoring twice and taking a five run lead. St. Joes responded by scoring three runs of their own in the next half inning. Fortunately, the Cavs held on for the win, keeping the Knights scoreless through the next two innings.
These wins propelled the Cavs to third place in the region, now only behind Chesnee and Blacksburg. The Cavaliers look to take advantage of their games against Greer Middle College to improve their region standing even further and get closer to securing a playoff start.