Fastest in the State
The girls and boys track teams competed at the state championship in Columbia.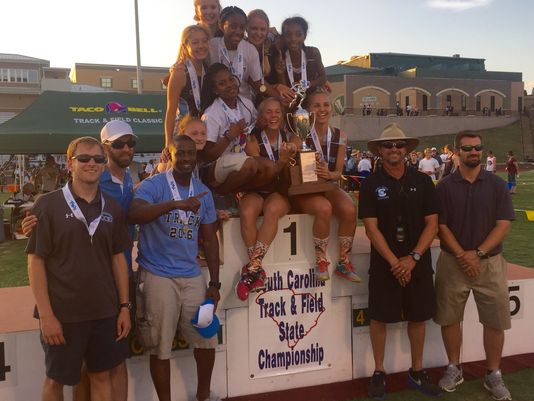 For just the third time, the lady Cavaliers are state champions.
The Christ Church girls track team made history this past Saturday by winning a state championship, the third girls track state championship in school history. The girls last won a state championship in 2012 and won their first state championship in 1978. The girls spent their Saturday at Spring Valley High School in Columbia, battling their way to the podium all afternoon.
The Lady Cavs scored a total of 107 points, silencing St. Joes, who scored 80 points, and Southside Christian, who scored 75 points.
Jordan Haywood stunned the opposition in the 100 hurdles with a time of 15.57 seconds, Victoria Patterson impressed with a mile time of 5.09.98, and Tariney Pepper crossed the finish line with a time of 58.36 seconds in the 400 meter dash. Each effort was good enough to earn these three girls individual state championships in their respective events.
The boys also had a number of runners place in the top three but could not come away with a state championship as a team. The boys came in 4th place overall. Led by first year head coach Darrell Durham, the boys scored 61 points and did outscore St. Joes who accumulated 57 points. However, the Cavaliers could not catch up to frontrunner Southside Christian who scored 84 points.
Senior Amani Richburg won an individual state championship in the 400 meter hurdles with a time of 58.89 seconds, but despite his best efforts, the North Carolina Central commit could not propel the Cavs to a victory in his final meet.