Apple, It's Time to Reinnovate the iPhone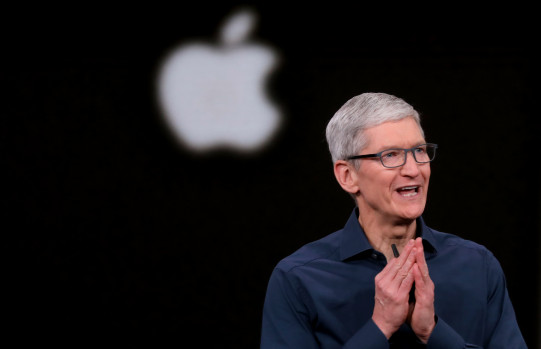 Sam Pazdan, Journalism Staff
April 8, 2019
Hang on for a minute...we're trying to find some more stories you might like.
2017 and 2018 were whirlwind years for the world's biggest company. Apple released the biggest redesign to the iPhone since the iPhone 6 with the iPhone X in 2019. The confusingly named phone received extremely mixed reviews. The new user interface was confusing to long-time iPhone users, the design choices were questionable at best, and the surprisingly powerful hardware inside of the phone was bottlenecked by iOS's limited customization and lack of exciting features. The confusion was only furthered when the tech giant released the even more oddly named iPhone XS, iPhone XS Max, and iPhone XR. Now that we are a few months into the life cycle of these phones, speculation is starting to arise about what is going to happen with the next iPhone. Perhaps more importantly, what in the world will it be called?
2019 is a year that Apple needs to capitalize on, as the smartphone market is more competitive than ever and more and more people are refusing to agree with the idea of purchasing a $1,000 phone. In order for Apple to maintain their massive chunk of smartphone market share, the company needs to do what Apple does, or rather used to do best: innovate and bring new technology that wows the minds of their customers. The truth is, the iPhone has been technologically stagnant since the release of the iPhone 4. The main marketing point of the iPhone 5S was Touch ID, even though fingerprint readers had already been in Android phones for 3 years. Face ID, Apple's major marketing point of the iPhone X, was a feature that we saw in the Samsung Galaxy S7 which came out two years before. To the companies' credit, these technologies worked very well and were extremely polished. This is because Apple has, for the past 10 years, been a company known for refining technologies as opposed to creating them. Apple finds aspects of Android phones that they like, creates their own version, and makes it work incredibly well. The issue here is not the fact that they do this, but the fact that this is all they do. It almost seems like Tim Cook looks at the Android market for the "thumbs up" on everything they create.
Looking at the release of the original iPhone and the few that came after it, it is apparent that people were extremely excited about what the company would unveil. Now, it seems that people just wonder what technology Apple will port from Android. Apple needs to bring that original excitement back with new technology. So what can they introduce with the iPhone XI, or whatever they decide to do with this monstrosity of a naming scheme they have created?
Under Screen Fingerprint Sensor
One of the most controversial features, albeit the main selling point of the iPhone X was Face ID. While some people really enjoyed this feature, it was a very mixed bag. Some people claimed that it worked faster than Apple's previous biometric security system, Touch ID, while others claimed that it worked much slower or not at all. Perhaps Apple could have avoided this problem completely by simply including both in the phone. However, given the iPhone's chassis and resulting lack of home button, this would require them to implement a fingerprint sensor that read from under the screen of the phone. At the time, there was no known technology that could achieve this while still working quickly and accurately. However, over the course of 2018, various Android phone manufacturers were hard at work on developing an in-screen fingerprint sensor. Chinese based smartphone brand OnePlus was the first company to implement the technology into a phone. The OnePlus 6T uses the light created by the display of the phone to reflect the pattern of your fingerprint back into the reader when you rest your finger on a certain part of the phone. The reader, which is embedded under the LCD, then looks for ridges and troughs on your finger. Based on this, the phone is able to decide whether or not to unlock the phone – all within mere milliseconds. The fingerprint reader on the 6T truly looks like something out of a sci-fi movie, and OnePlus's additional inclusion of a dot-matrix based facial scanner gave customer's many options to unlock their phone.
Given that the display technology in the iPhone is in nearly the exact same place as the OnePlus 6T, there is no reason that Apple, a company with more than 200 times the revenue of OnePlus, can't find a way to use similar technology in their new phones.
Tri-Camera System
One thing that has the iPhone has always been able to brag about are the cameras. Ever since Apple introduced the camera to the smartphone, they have been easily the best. This is thanks to Apple's massive team of optical engineers and software engineers who focus specifically on the development of software for camera systems. In the iPhone 7 Plus, Apple introduced a camera feature that would go on to change the way we take family photos – the Portrait effect. This software uses 2 cameras and a depth sensor to find the main subject of a picture and creates an artificial "bokeh" effect around the subject. This feature was further improved in the iPhone X and XS, allowing users to customize the strength of the bokeh effect and use different types of Portrait Lighting.
While Apple did bring these features to market, other companies were quick to develop their own take on the technology. OnePlus, Huawei, and Samsung made massive adjustments to their camera app and camera hardware to allow for more complex and accurate photos to be taken. Huawei in particular introduced a camera that allows the user to see what is around them in pitch black dark with jaw dropping
accuracy. All three companies, however, introduced a 3 camera system into their flagship smartphones. Each camera serves a different purpose to take a different kind of picture. There is typically a standard digital camera and sensor, a camera with physical zooming, and a camera with an ultra wide lens. The technology behind these systems gives these phones a massive edge when it comes to photography.
According to various reports, Apple is already working on a similar system for the next iPhone. It is likely to feature a wide-angle lens that is able to capture 135° of a picture. This can be used to make full 360° panoramas to capture the entire view of something. Apple is also reportedly working on an overhaul for the software to go with the cameras. In iOS 13, users might have beautifying options for portrait photos, as well as access to a host of algorithms for low-light photography and more.
5G Support
The predecessor to 4G LTE, aptly named 5G, is already being pushed out into major cities around the world. Chicago and New York both have support for the new cellular standard. 5G has a long list of features that make it significantly better than its predecessor. For one, it is likely to be even faster than the Wi-Fi network in your house, boasting 200-400 Mbps download speed and 50-100 Mbps upload speed. In addition, providers of 5G have drastically increased the available bandwidth for their customers, and the signal is now completely on a 5 GHz frequency. This doesn't sound like much, but it essentially means that your connection won't suffer at all when you are in a crowded place. A handful of Android phones have already implemented 5G, so we'd love to see it on the iPhone this year. Unfortunately, however, many reports have said that the Cupertino giant is likely to wait until 2020 to implement the standard. These are unofficial reports, so there is still a chance that we see it in 2019, but the sources from which this information comes have been reliable in the past.
Wireless PowerShare
At the Samsung event this past month, Samsung showed off a new feature in their flagship line of smartphones. The S9 and S9 Plus have a feature called Wireless PowerShare. With this feature, an S9 user can enable a setting on their phone, and if they are a good enough of a friend, can allow a friend to hold their phone to the back of the S9. The S9 will charge the other phone wirelessly. This would be a great feature for the iPhone, especially with the new Wireless AirPods case. AirPods users will then be able to charge their headphones on the back of their iPhone.
USB-C
Apple has been using their Lightning connector for 8 years. The connector is outdated, has slow data transfer speeds, and is only capable of low wattage charging. USB Type C is the new standard in the tech industry, and many devices, including Apple's new MacBooks and their new iPad Pro have already implemented it. Many reports are saying that USB Type C won't come to the iPhone until 2020, which would be a stupid move by the company. Moving the next iPhone to USB Type C would make it much easier for people to create accessories for the phone, and would allow a universal connector across all devices. Hopefully we get this feature for the next iPhone, as it would allow for 2x faster charging, 5x faster data transfer, and ability for the use of more accessories.
The iPhone has struggled in innovation over the past few models, but Apple has a plethora of features that they could implement to reinvigorate the excitement around their biggest product.