When Your Idols Become Your Rivals – Eminem vs. Machine Gun Kelly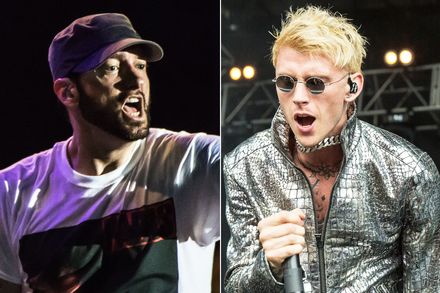 Ever since its conception in the mid 1970's, the rap game has had no shortage of drama between artists. In 1994, most notably, was the infamous 'beef' between 2Pac and Biggie Smalls, which by the speculation of many, resulted in the death of both rappers. Not all rap quarrels ended this poorly. It isn't uncommon to see rappers start problems with each other as an act of collusion to jointly grow their audiences. As such, recently, popular rappers have been starting problems with each other as a business move. The most recent piece of big 'beef' in the rap game, however, comes from someone who is widely regarded as one of the best rappers of all times who is fed up with the current state of the genre.
Kamikaze, the latest project by the Detroit-based rapper Eminem, is a relentless jeer at just about everybody in the rap game. The first song of the album, The Ringer, is a five-and-a-half minute, fast-paced criticism of the current state of rap intended to set the tone for the album. In the song, Shady takes shots at some of the most influential rappers of this generation. Lil Pump, Tyler, the Creator, Machine Gun Kelly, and Drake were all subject to Em's criticism. Even Donald Trump found himself a victim of his attack.
Eminem's "roasts" were primarily directed at the newly-popular style of rap known by many as 'mumble rap.' Recognized by their face tattoos, sometimes colorful hair, and obsession with codeine-based 'lean', these rappers have taken the lyrical, poetry-like rap for which Eminem was known and have turned it into what Shady describes as "mumbling jumbled in mumbo-jumbo." He also takes shots at Drake, who, despite having a record-selling year and releasing a chart-topping album, hasn't been spared of controversy. Many rappers have claimed that the Canada native rapper doesn't write his own lyrics and instead has what are known in the rap game as, "ghost writers."
One of the jeers that Eminem took in The Ringer was directed at Machine Gun Kelly, a rapper known for his fusion of rock and rap, over comments that he made about Em's daughter, Hailie. It took less than 48 hours for Machine Gun Kelly to write a song and release a video that solely targeted Eminem. The song, named Rap Devil as a rebuttal to Eminem's hit 2013 song, Rap God, talks about Eminem's anger, dwindling fan-base, and even his beard. He even talks about how Eminem was a large influence on him towards the start of his career, stating, "it's a fast road when your idols become your rivals." Likewise, he sarcastically asks Shady to revert to the style of music in his 2010 album Recovery. Kelly also thanks Eminem for the career growth he garnered from the mention in the massively successful album. Kelly's 'diss-track' amassed nearly 100 million views in under 2 weeks. Although Eminem and Machine Gun Kelly fans butted heads on whose music they believed to be better, they were able to come to the conclusion that Rap Devil was begging for a response from the self-proclaimed 'Rap God.'
The week following the release of Rap Devil was clearly a busy one for Eminem. He was the subject of 4 interviews, filmed a music video for two of Kamikaze's songs, and even flipped the coin at a Detroit Lions game. Despite this, he still found time to write, produce, and release a diss-track titled Killshot in response to Kelly. The album cover features a sketch of Kelly's face in the crosshairs of what appears to be a sniper rifle. Eminem mocks Kelly's lyrics, and expresses his confusion with the track's intention, rapping, "insult me on one line, compliment me on the next?" Among the other roasts are lines about his ex-girlfriend, tattoos, and 'man-bun' hairstyle. In possibly the most brutal part of the track, Eminem takes aim at the awards that Kelly has won throughout his 10 year career. It is certainly impressive that 28-year-old Kelly has created multiple RIAA certified Gold records in his short career, but it doesn't even come close to Eminem, who released 3 RIAA certified platinum records before turning 25. He even goes as far as to claim that he was solely responsible for Kelly even having a career, saying, "had to give you a career to destroy it." Killshot exploded almost immediately, hitting 50 million views in a mere 3 days. The story of the beef was a trending topic on all social media with loyal Machine Gun Kelly and Eminem fans arguing over whose diss was better.
Whilst opening up for Fall Out Boy, Machine Gun Kelly received an overwhelmingly negative response from the crowd. It seems that even Kelly's fans are criticizing him for taking shots at Shady.
It's unclear where this situation will go next. It is possible that Kelly creates another diss track in response, but it is also possible that the beef will sizzle out and remain uncooked for now.