Can't Catch Connor 5k Returns in April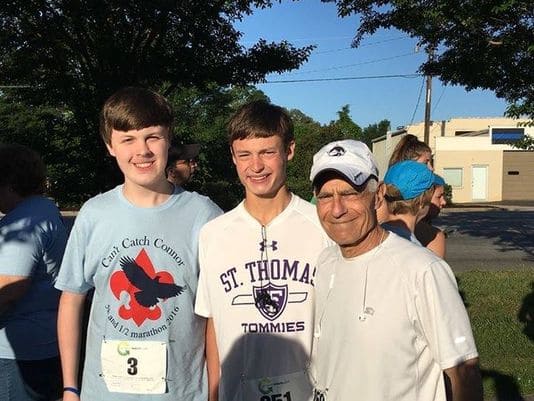 Last year, seniors Nathan Akerhielm and Andrew Allen held the first annual Can't Catch Connor 5k and half-marathon in honor of their deceased classmate Connor McManus. The race, which was took place on the Swamp Rabbit Trail in Travelers Rest, was a wonderful tribute to Connor and his family, all of whom were vital members of the CCES community during their time here. The race was a big hit as it brought together many members of the CCES and greater Greenville communities for a day of fun racing.  The race raised a lot of money for the Boy Scouts, an organization that Connor was heavily involved in.
This year, Andrew and Nathan are putting the race on again. The race will be held on April 8th and will again be on the Swamp Rabbit Trail once again, starting at Trailblazer Park in Travelers Rest at 8:30 am. Unlike last year, this year's event will not contain a half-marathon and will only have a 5k race.  The deadline to sign up is March 24th to get a t-shirt, but sign-ups will continue after this date. The t-shirts will be Batman-themed, a nod to Connor's favorite superhero. Everyone is encouraged to attend the race, either as a participant or a volunteer, to join in the celebration of Connor's life and memory while also raising money for the Boy Scouts. Andrew said he is extremely excited for the race because it offers "another opportunity to bring the community together again and keep Connor's memory alive."
More information for the race can be found on flyers posted throughout the school or on the race's Instagram account: @cantcatchconnor5k. To sign-up for the race or to donate, visit http://www.go-greenevents.com/event/id/5271.