Honor Chapel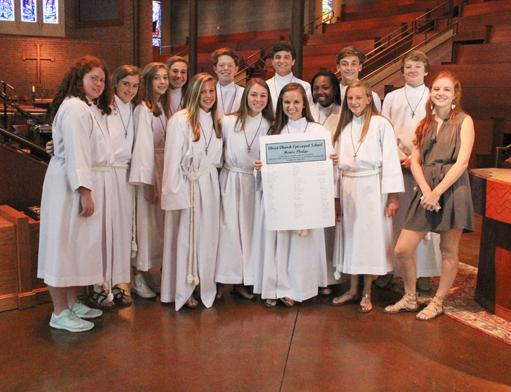 Integrity, honesty, and character form the foundation for success in both school life and the real world. The Cavalier community acknowledges the importance of trust in a learning environment by signing and living by the Honor Code. On Wednesday September 7, Christ Church held its annual Honor Chapel. Both the students and faculty signed the Christ Church Honor Code which states,
"As a member of the Christ Church Episcopal School community, I will not lie, cheat, or steal, and I will assume my obligation to encourage others to uphold this Honor Code."
These words are not taken lightly within the CCES family as it is the job of the Honor Council to ensure that students behave honestly. The Honor Council decides the repercussions for anyone who choses to break the Honor Code.
Honor Council Chair Emma spoke with poise about the significance of abiding by the Honor Code in her inspiring homily during the Honor Chapel. "Living dishonestly is like wearing a mask," Emma stated. She compared living with integrity to living life freely without a disguise.
After her meaningful words, the Cavalier community lined up row by row to pledge to live with integrity. New and returning members for Student Council and Honor Council were also officially inducted to represent the student body. The main takeaway and principle for living honorably was stated simply by Emma, "it is important to chose the harder right over the easier wrong."