Football Team Looks To Bring Signature Physicality Against Carolina
As this year's high school football season is beginning to come into full swing, the Cavaliers are now preparing for their first home game after a long stretch of being on the road. The Cavs started their season off with a bang, defeating Dixie 33-7, a game where Senior linebacker Harris Crawford scored two fumble return TDs. The Cavs then dropped their second game, a hard fought 35-13 match against Chesnee, before following up that performance with a solid 35-28 win over the Warriors of West Oak, picking up their 2nd W of the season.
The Cavs look to jump to 3-1 this week, as the team continues to follow the leadership of this year's 10-player senior class. Daniel Verriest, senior linebacker, described the group of seniors as incredibly tight-knit and feels that being a senior on this year's team "is a hugely important responsibility". This year's senior class has been, and will continue to be, instrumental in the success of the team. Head Coach Tommy Bobo lauded the senio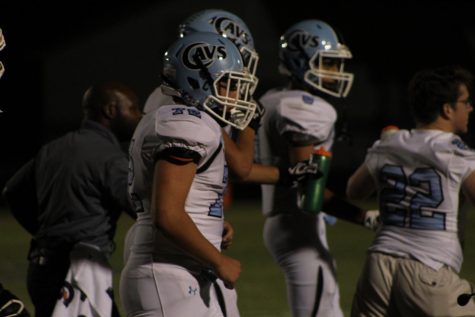 rs for their "ability to step up and take ownership of the team" and praised them for their commitment throughout the offseason. This year's seniors exemplify the idea of buying into the Christ Church program, which has been an important theme for the team for years.  
Christ Church defeated the Trojans 32-12 last year, but Carolina returns with a new offensive scheme and attempts to pick up their first win of the year. After last year's injury-riddled 3-7 season, strength training became an area of importance for the Cavs, and this year's team has stepped up in that regard. The 2019-2020 team has adopted a new level of physicality, and this hard-nosed attitude has gotten them off to a hot start. They look to bring that physicality to Carson Stadium Friday in order to contain Carolina Academy's triple option offense.