2019 Winter Sports Wrap-Up
As the baseball, soccer, track, and lacrosse seasons begin to heat up, it is a good time to reflect on the successes of this year's Winter sports teams. With young wrestling and basketball teams, Christ Church is in great position to further build off of this year's success.
The senior-less and injury-ridden Boys Basketball team overcame a lot of adversity to have an incredible season, ending the year with a 17-9 record (12-3 region record) and winning their region. Sophomore center John Butler led the team with 18 PP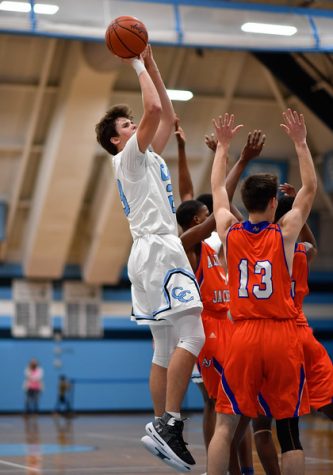 G and 5 BPG. Freshman Sam Perry, who spent a portion of the season recovering from an injury sustained during the football season, contributed 9 PPG and was the team's 2nd leading scorer. Highlights of the season included a 50-47 win over St. Joe's and a region-clinching 11-point victory over Greenville Tech Charter. With the team's 9 leading scorers age averaged at just 15.1 years old, Boys Basketball has an incredibly bright future, and will look to make an even deeper playoff run next year.
The Girls team has continued their basketball dominance, finishing the year with an unblemished 14-0 region record, as well as a 25-4 overall record. Freshman McCall King leads the team in points and rebounds, averaging an impressive 19 PPG and 6.2 RPG. Junior Marissa Powe has also filled box scores this season, with a very complete stat line of 17.2 PPG (2nd on team), 5.7 RPG (2nd on team), 3.7 APG (leads team), and 3.9 RPG (2nd on team). 5'3" Senior Emmy Dickerson has also been a key part of the Lady Cavs success, pulling down 5.4 RPG and racking up 4.2 SPG. The Lady Cavs, though losing 3 key seniors next year, are actually mostly underclassmen (5 freshmen and 2 sophomores). The team's bright future, however, takes second fiddle to the success the team is enjoying right now, as the Girls will be competing this weekend at Colonial Life Arena in Columbia, looking for their 5th state title in the last decade.
CCES Wrestling, though limited by numbers, also saw a lot of success this season. The team, consisting of juniors Charlie Burger, Kirk Stone, and Blake Hornish, as well as freshmen Dasia Yearby and Alex Eastland, took 2nd in region and, after starting the season unranked, finished ranked 14th in the state. Eastland and Stone won their respective weight classes (120 lb and 113 lb) at Region and Stone was named Region Wrestler Of The Year. Second year Coach Chris Teague was voted Region Coach Of The Year, as the team sent multiple wrestlers to the State Tournament for the first time since 2009 (Kirk Stone and Charlie Burger). Next year, the varsity team looks to add 8th graders and Middle School State Qualifiers Constantine Gandis and Colin Williams to contribute next year, as the team pushes for a region championship.