Spirit Week 2017: Basketball Games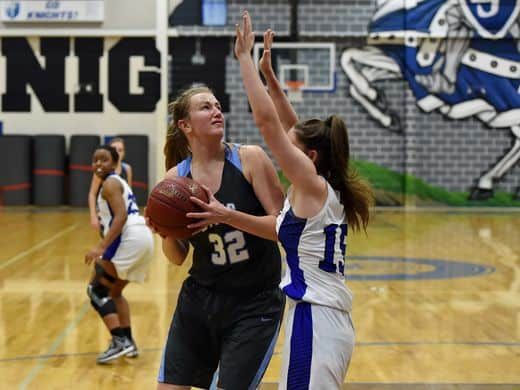 A fun and entertaining Spirit Week culminated with the boys and girls basketball games against St. Joseph's last Friday. The games gathered a large crowd with both sides wanting bragging rights over their hated rival.  CCES students, in particular, showed up in large numbers for the away game and cheered wildly for the Cavalier basketball teams.
The girls team did not disappoint these fans. They dominated the Knights the entire game on both offense and defense, winning the game 68-35. Senior Bailey Brezeale was elated about the result of the game, saying, "It was really cool to win because now I can say that I have never lost to St. Joe's during my time playing basketball."
The result of the boys game was not as favorable for Cavalier fans. Despite a hard fought effort, during which the team never gave up, the boys lost 63-27. The boys were not able to overcome the stifling defense and hot shooting of the Knights. Although they have endured many hard losses this season, the Cavaliers looked to close out their last four games strongly following the loss to St. Joe's.
While the play on the court during the two games was exciting, perhaps the most exciting moment of the night happened during halftime of the boys' game. A check for $41,700 was presented to St. Anthony's of Padua Catholic School by the student councils of both Christ Church and St. Joseph's. The amount was raised over the course of the joint Homegoing Spirit Week through the various spirit events, showing the dedication and love for St. Anthony's that the students from both schools have after raising money for the school in two consecutive years. Student Body President Schuyler O'Brien said, "It was nice to join up with a rival school to do something for a good cause. We are very fortunate, so it was good to do something nice for those who are less fortunate than us in our community."