Putman and Dixon Excel in North/South All-Star Game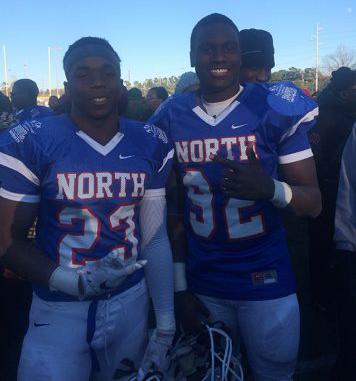 The North vs South All-Star game features the best high school football players in the Upstate against the best players from the Lowcountry. Being asked to play in this game is a prestigious honor that a high school football player can be awarded with in South Carolina. Therefore, Christ Church was honored when defensive end Ryan Putman and linebacker Daniel Dixon were both asked to play.
The game was held at Doug Shaw Memorial Stadium, the home football field of Myrtle Beach High School. Coach Tommy Bobo, the running back coach for the Cavs and CCES Athletic Director, coached the running backs for the North.
Both Dixon and Putman were the two leading tacklers for the Cavs this year with 120 and 71 solo tackles respectively. Dixon also had 60 assisted tackles, 9 sacks, and 2 interceptions while Putman had 34 assists, 7 sacks, and 2 fumble recoveries, both of which were returned for touchdowns.
Putman has offers to play college football at multiple colleges including Newberry College and Tusculum College. Both Putman and Dixon started in the North-South game; Putman racked up 6 tackles, 1 sack, and a tackle for loss while Dixon finished with 7 tackles and a tackle for loss.
"My favorite part of the week was probably meeting all the players I've been playing against all season, and the bond we made during the week and the level of competition at which we competed throughout the week, I felt that was really cool," Dixon said.
The Cavalier community is very proud of both players who have played special roles in the Cavs' success during their time here. We hope for the best to come in the future for these great young men.