Girls Basketball State Championship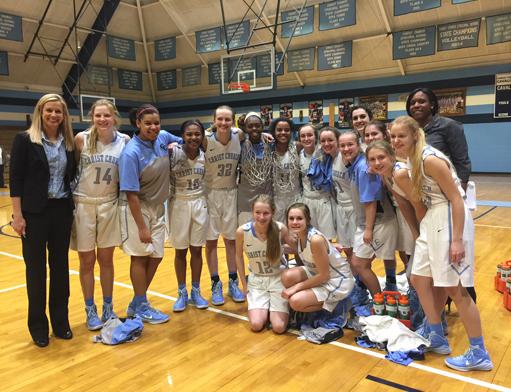 The Christ Church girls basketball team ran away with a win in the State Championship game against Timmonsville by a score of 64-41 to clinch their second consecutive state championship title.
North Carolina commit Shayla Bennett scored 28 points in the state championship game, a perfect way to end her high school basketball career. However, the win was a complete team effort; Paula Pieper had fourteen points while Lawren Cook added 13 boards and a triple-double.
The Cavaliers kicked off their spring break with the Upper State Finals against C.A. Johnson who they defeated 64-41. The Lady Cavs carried this momentum into the state championship game against Timmonsville on March 5th. After the first quarter ended at a 15 point tie, the Cavaliers capitalized on Timmonsville, outscoring them 25-9 in the second quarter. The Cavaliers continued their domination in the second half and won by a final score of 64-41. The basketball teams second straight championship labels them as a potential dynasty, and despite losing many impactful seniors are optimistic for the years to come.