Cavalier Swim Team's Season in Review
Christ Church had great success at both region and state.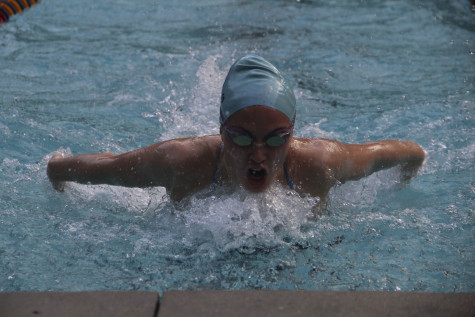 The Cavalier swim team had high expectations entering this season. The boys team won the AAA State Championship last season while the girls team also had an impressive year with a fifth place finish at state.  Both teams hoped to continue their success this season despite losing several valuable seniors from last year.
On Saturday, September 28, the swim team gathered at Westside Aquatics Center in Greenville to swim in the region meet against St. Joseph's, Southside Christian, Greenville Tech Charter, and Brashier Middle College. Both the girls and boys teams were victorious in winning the region championship.
During this effort, juniors Maddie and Sydney Baker scored the most points out of all swimmers on the girls side and were named All-Region, along with freshman Kailee Morgan. From the boys team, Rak Hovart, Dylan Muse, and Jackson Kabas scored the most points out of all swimmers and also were named All-Region. Head Coach Park Owings was named region Coach of the Year for the girls team.
The state meet took place on Saturday, October 17 in Columbia after being delayed a week due to flooding. The Cavaliers travelled to the University of South Carolina natatorium to swim against Class A, AA, and AAA opponents from across the state. The Cavaliers put up a very impressive performance on both sides – the boys finished fourth and the girls finished fifth in the state.
For the girls team, Maddie Baker won the 200 IM and came in second in the 100 butterfly while her twin sister, Sydney Baker, won the 100 breaststroke, in which she broke a meet record, and the 200 freestyle. "It was pretty awesome. That was better than I expected, so I was pretty happy," Sydney told The Greenville News about her record-breaking swim.  Morgan placed third in the 100 breaststroke and was named All-State, along with the Bakers and freshman Diana Geary. The four girls brought home a third place in the 200 medley relay.
On the boys side, Hovart, Muse, and Kabas all won medals in individual events and, along with Andy Xu, won second in the 200 medley relay.  Kabas, a team captain and one of two seniors on the team, turned in a second place finish in the 200 freestyle and third in the 100 backstroke.  Hovart finished second in the 100 free, and Muse secured a second place in the 100 breaststroke and a third in the 100 butterfly. Hovart, Muse, Kabas, and Xu were named All-State. Coach Owings told all the Cavaliers after the meet, "I could not be prouder of y'all's performance. You make me love what I do!"