Bennett Leads Lady Cavs Through Playoffs
The Christ Church girls basketball team is playing in the third round of the playoffs tonight.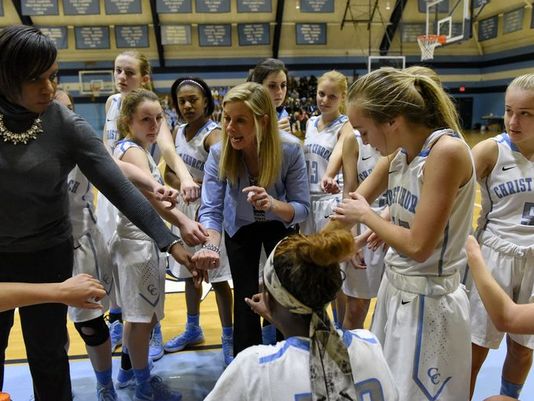 After defeating Whitmire and Lamar in the first two rounds of the playoffs, the top seeded Christ Church girls basketball team has advanced to the third round and will play Ridge Spring-Monetta, who finished second in region four on Monday, February 23rd. The winner of this game will advance to the Upper State Championship on Saturday, February 28th.
On Wednesday, February 18th, Christ Church defeated Whitmire 71-17 in the first round playoff game. The team was hit with a virus, so they were missing four players — including two starters. Even head coach Toni Leopard was hit with the virus as she was barely able to make it to the game. Despite the illness, junior guard Shayla Bennett scored 35 points including 6 three-pointers. Sophomore post Bailey Breazeale scored an additional 13 points for Christ Church.
Although the virus was a set-back for the team physically, it was a building experience for them mentally. Coach Leopard was proud of the girls and their ability to move on. With a smile, she said, "That's what playoffs are anyway, right? Survive and advance."
The following day, Christ Church defeated Lamar 71-21. Bennett scored 36 points including another 6 three-pointers and, not to mention, a half-court buzzer beater at halftime. Breazeale scored 11 points, and freshman forward Lawren Cook scored an additional 8 points with 2 three-pointers.
Tensions were high between the two teams throughout the entire game. Bennet tried to keep her cool as guards from the other team face-guarded her throughout the entire third quarter. However, the girls were vocal on the court to stay focused. They supported and encouraged each other on the bench. The win against Lamar was a total team effort.
Senior Sarah Robinson said, "It was a great win, especially because we lost to Lamar last year in the second round. It was nice to give them a little revenge."
The Christ Church girls basketball team has now extended their win streak to 17 games as they prepare for their next playoff matchup against Ridge Spring-Monetta.