Irma's Wrath in the Caribbean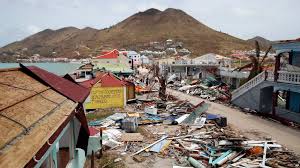 When you think of paradise, you probably picture yourself in front of blue waters, sea salt in the air, and the warmth on your shoulders from a day spent in the sun. Some of these places you may be imagining have been demolished, their once beautiful shores filled with debris. While hurricane Irma made landfall from Florida all the way to South Carolina, the first to be devastated by the storm were several small islands in the Caribbean. Several small cities were almost completely wiped out by the hurricane, buildings and towns washed away.
The hurricane hit some of Christ Church's favorite vacation spots such as the US Virgin Islands and Turks and Caicos, who faced winds up to 175 mph in the category 5 storm. Other tropical destinations, including the Dominican Republic and the Florida Keys, have evacuated well over 5,000 people and the small island of Barbuda is estimated to have lost around 90% of it's buildings, leaving 50% of the population homeless.  
If you're watching the dramatic devastation in these areas and want to help, there are several reliable charity organizations that can use your support to aid victims of the storm.
Giving Children Hope is a faith-based nonprofit that focuses on community to help serve vulnerable children and families. Giving Children Hope provides wellness programs and disaster response to supply sustainable hope. This organization collaborates with local and global communities to provide medical resources, nutritional foods, and basic needs.
Operation USA is a Los Angeles-based international disaster relief and development agency helping communities at home and abroad overcome the effects of disasters, disease, violence and epedemic poverty.
Global Giving is the largest global crowdfunding community that works to connect nonprofits, donors, and companies in nearly every country. They aim to help many countries such as Afghanistan and Zimbabwe access the tools, training, and support in order to be more effective and make our world a better place.
There are many other charities that work to help victims of natural disasters, explore other options at Charity Navigator.