Cavaliers in the Snow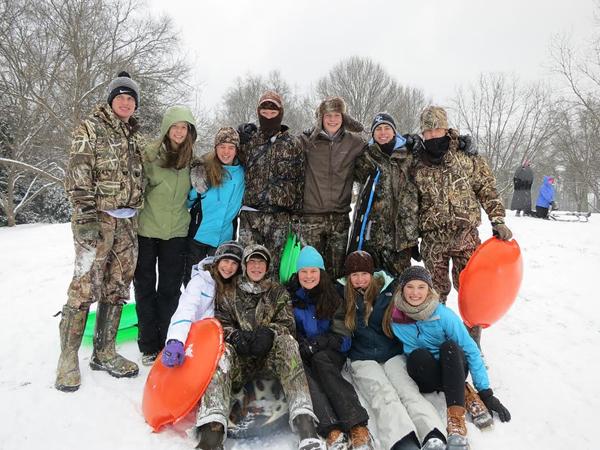 As soon as the school day ended on Tuesday, January 28th, I bundled up in my jacket and gloves and headed outside where snow was already accumulating on my car. My afternoon basketball practice was cancelled, so I had the entire afternoon free, which is something that I am not used to having.
My friends and I decided that, should school be cancelled, we would get together and have a sleepover. Luckily for us, an official Schoology update declared around seven in the evening that school the next day would indeed be cancelled. As soon as they heard, my friends hurried over to my house before the roads got even more dangerous than they already were. Don't worry, most of them had their parents drive them. We wasted no time in beginning the sleepover festivities.
I turned on the Wii and inserted my favorite game, Just Dance 2, to kick off the night. We had a great time dancing to songs such as "Tik Tok" and "Crazy in Love" before we switched to the newer Just Dance 3 that also had some great dance tracks. Despite having only two controllers, we were all able to dance as much as we wanted. We even convinced my brother to join in for a few songs. One of our favorites was Britney Spears's "Baby One More Time" because there were four dance avatars on the screen and their were four girls at my house.
After a couple hours of dancing, we were quite exhausted and snuggled up on the coach with blankets and turned on a movie. My mom brought down a plate of cookies, so we ate and watched a chick flick, Wild Child, as the night drew to a close.
The next morning we woke up to a breakfast of pancakes and fruit. We were a little disappointed because there wasn't as much snow as we had hoped. So instead of going outside to play like we had planned, we stayed inside and played another round of Just Dance. Later that morning my brother had a bunch of boys over, so we all had a good time hanging out, whether we were playing on the snowy basketball court or watching a movie. This unexpected day off was a nice break from school, and I wasn't the only one who took advantage of it.
Olivia Thurmond had a very productive snow day. She painted the walls of her room from beige to gray, in addition to painting some canvas pictures.
Darcy Merline went to a friend's house and made hot chocolate to keep her warm despite the frigid temperatures.
Tom Kent caught up on schoolwork in the morning before hanging out with some of his friends that afternoon.
Several students, including Hope Sanders, used the day to do nothing other than catch up on sleep.
I think it is safe to say everyone enjoyed the day off from school, no matter what activities they took part in. Fingers crossed for another snow this winter, one that is even better than the first.