The Lazy Goat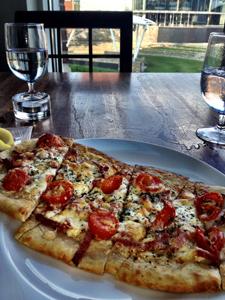 The floor to ceiling window that looks out onto Falls Park gives The Lazy Goat one of the most scenic views of Greenville's downtown area. The decor is very modern and the space is open. This mediterranean restaurant, inspired by countries such as Spain, Moracco, Italy, and Greece, is a popular spot among people of any age.
The food at The Lazy Goat is flavorful, adventurous, and sure to satisfy even the finest taste buds. It is safe to say that the bowl of fried goat cheese balls is the most popular on the menu. This appetizer is served with chopped pistachios and drizzled with honey, which balances out the tartness of the goat cheese. Another popular starter is the hummus plate, which includes mixed vegetables and warm pita bread for dipping.! The entree selection also features a variety of dishes inspired by different cultures. The savory pizzas are quite pleasing, though less adventurous than items such as the seafood paella. The only complaint regarding the food is that some of the plates carry very small quantities, so diners are left wanting more.
During the day, the outside light shines in through the the window, creating a natural ambience. Then, when the sun has set, the dim lights are turned on and the atmosphere immediately changes. There is a small, intimate bar and lounge chairs just outside the dining area which makes it a good spot for a low-key night with some specialty drinks. There is also a beautiful outdoor dining area that looks out onto the river.
It has even been the location of the school's After Prom for the past couple years. Seniors Bronwyn Sastry, Gia Wixler, and Sarah Renfro were very impressed with this location. "The food was absolutely delicious, and the drinks were awesome," said Renfro, as Wixler added, "The goat cheese balls were to die for!" Sastry agreed, and said, "The location was great. I just wish there had been a little more seating for us."
Whether for food or just for drinks, The Lazy Goat is a must try for anyone willing to experience the flavors of the mediterranean in Downtown Greenville.