Backlash Against NRA in Wake of Parkland School Shooting
Following the Parkland shooting on Valentines Day, many companies have been pressured by constituents to cut ties with the NRA following the Parkland, FL shooting. One of the first companies of many to end special discounts and rates was the First National Bank of Omaha, who cancelled these services for the five million members of the NRA.
Other companies such as Delta, have released statements saying "Delta is reaching out to the NRA to let them know we will be ending their contract for discounted rates through our group travel program. We will be requesting that the NRA remove our information from their website," via twitter. United Airlines has released similar sentiments two hours later, saying "United is notifying the NRA that we will no longer offer a discounted rate to their annual meeting and we are asking that the NRA remove our information from their website". Hertz car rental service has cut ties as well, "We have notified the NRA that we are ending the NRA's rental car discount program with Hertz".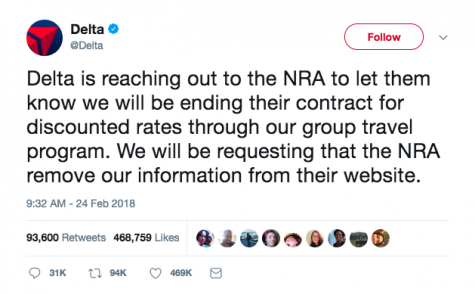 In the wake of threats of suspension from certain schools for participating in a protest or school walkout, many elite colleges have made statements supporting students who may choose to participate. Senior assistant director of Yale admissions, Hannah Mendlowitz, wrote in a blog post, "Yale will NOT be rescinding anyone's admission decision for participating in peaceful walkouts for this or other causes, regardless of any high school's disciplinary policy," showing Yale's support for students expressing peaceful dissent. Other universities supporting these students include Brown, Dartmouth, and MIT. UCLA's admissions twitter account made this statement on February 23: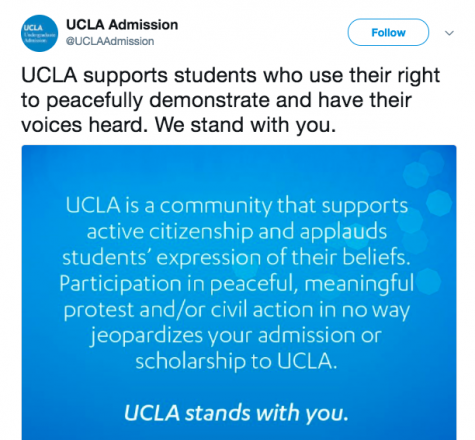 While the student-led #NeverAgain movement gains more support, the real-life impact grows as well. As the current protesters and students affected by these tragedies reach voting age, hopefully politicians will begin to listen to their voters and make lasting change to ensure that horrific acts of gun violence are no longer a reality in America.