CCES's Spotify Wrapped
December 1st. Spotify Wrapped has been released. It allows users to view a compilation of data about their activity on the platform over the past year. Using a survey, I asked CCES students their number 1 artist, song, and genre from the past year. These are the results:
Top Artists:
No surprise, Taylor Swift is the most popular artist among CCES students with 22% of responses claiming her. Ironically, the second most popular artist is Kanye West, with about 10% of responses. Next is Morgan Wallen with 4.4%, Olivia Rodrigo with 3.3%, and Lil Baby, Khalid, Drake, Doja Cat, and Tyler the Creator tying with 2.2% of responses. The rest of the responses only accounted for 1.1% each, ranging from KSI to Phoebe Bridgers to Queen.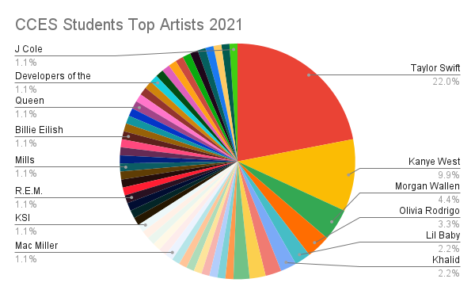 Top Songs:
Only 3 songs were shared as students' top songs of 2021; All Too Well by Taylor Swift, Good Days by SZA, and Sand In My Boots by Morgan Wallen. I'm not surprised All Too Well made the top since the song is a whopping 10 minutes and 13 seconds. Every other top song was a single response, but a few were from the same artist. There were 8 top songs from Taylor Swift (All Too Well, Fifteen, This Is Me Trying, Champagne Problems, Willow, August, and Our Song) and 5 top songs from Morgan Wallen (Neon Eyes, Sand In My Boots, Cover Me Up, and Wasted On You). These results are unsurprising since they follow the same trends as the top artists.
Top Genre:
The most popular genre by far was Dance Pop, with 28% of the responses. I had no idea what Dance Pop was, despite it being my top genre, as well. According to my research, Industry Baby by Lil Nas X, Peaches by Justin Bieber, and good 4 u by Olivia Rodrigo fall into the Dance Pop genre. So, if you listened to any of these songs or some similar ones, your Dance Pop genre may be explained. The next most popular genre is tied between Indie Rock and Melodic Rap with 8.2% of responses. And in third place is another tie between Country and Indie Pop with 7.1%. Some other random genres include Italian Pop with 1.2%, Showtunes with 3.5%, and Chicago Rap with 1.2%. 
Spotify Wrapped allows us to re-experience our past year through music and allows Spotify to promote their app all over our social medias. It is my favorite part of the year and I hope everyone got the results they wanted.