March Sadness pt.2: March Gladness?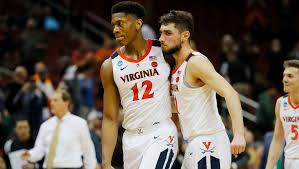 It appears I spoke too soon.
Just last week, I went into great detail about the emotional trauma caused by my failure of a March Madness bracket; my "March Sadness", if you will. I ranted about the struggle of spending hours perfecting my bracket, analyzing countless statistics, watching an excessive amount of film, only to find myself clawing my way out of last place.
After the first two rounds, I found myself in 57th place. Now, after a strong Sweet Sixteen and Final Four-clinching wins from Virginia and Texas Tech, my bracket, "AlexEastland", has found its way into
 1st place. With 840 points and a potential of 1560, "AlexEastland" has quickly turned a disappointing March Madness campaign into a potential 1st place finish.

My first reaction after opening the Tournament Challenge app to find myself leading in both of my bracket groups was to jump out of my bed and run around my room, yelling "They slept on the King! The King is back!" However, after declaring my rightful position as heir to the March Madness throne, I couldn't help but reflect and consider exactly how I got to this point.
Duke, the predicted winner in "AlexEastland", has found its way to the Elite Eight through some incredibly lucky games. A nail-biter against UCF was won after not 1, not 2, but 3 missed layups in the final minute by the Knights, and the Blue Devils' Sweet 16 win over Virginia Tech came off a missed wide-open alley-oop that would have sent the game into overtime. Had any of those 4 shots fallen, the unsinkable ship that is "AlexEastland" would not continue to sail. Texas Tech squeaked by Gonzaga, and Virginia found themselves down 3 with 5 seconds left before late game heroics from Ty Jerome and Mamadi Diakite saved the Cavaliers season, as well as my bracket.
"
All you need is a little luck"
— Alex Eastland
It appears I was wrong to write off "AlexEastland" so early. Just because I was too firm of a believer in Belmont doesn't mean my bracket is dead. Just like Selection Sunday, I'm still pushing for that first place finish. Will I look back at this article fondly as I go on to win the bracket? Maybe.
"
Am I jinxing myself by writing about the resurgence of my bracket before the end of the tournament? Probably."
— Alex Eastland
But the fact of the matter is I still hold the same belief about the NCAA Tournament as I did when I was in 57th place. March is unpredictable. I can attribute any success I have to my analysis of adjusted margin of victory stats all I want, but, the truth is, that isn't what gets you into 1st place. Watching Texas Tech and Virginia pull off wins this weekend only further cemented my belief in the unexpected. If you want to win in March, you don't need to know the 3 point efficiency of all the teams. You don't even have to know a single player in college basketball. All you need is a little luck, and, no matter how much research I did about my bracket, that luck is what ignited the comeback of "AlexEastland".