March Sadness: The Alex Eastland Story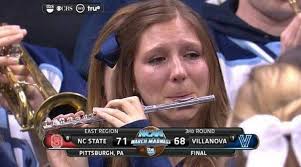 Checking my Schoology calendar for the week of March 18th, I began to feel overwhelmed. 3 tests, 2 quizzes, and a Biology lab, all near the end of the week. However, the looming feeling of dread that I dealt with was rooted deeply in something much more sinister than Mrs. Joseph's Algebra quiz. The menacing storm cloud that took an unprecedented toll on my mental well-being was not the responsibility of any CCES teachers; it was March Madness.
Last week, I published a in-depth article detailing my NCAA Tournament picks, offering statistical analysis for each prediction. My bracket took days of research and analysis and to get the article published before the start of the tournament became my main priority. Writing at every opportunity I had, I was unbelievably stressed yet incredibly focused. With little sleep and a lot of typing, I was fortunately able to get the 6000 word article completed in just two days.
As the games began on Thursday, I was more than confident in my bracket. The CCES News bracket group had over 70 members and I was very optimistic in my ability to win the whole thing. Maybe even a little cocky, but of course I was. Nobody else had put half the amount of time into his or her bracket as I had. I was a lock for at least a Top 10 finish.
"
As the games began on Thursday, I was more than confident in my bracket."
Day 1, however, was a struggle. Louisville's 10-point loss to the Golden Gophers of Minnesota was a rough way to start off the tourney for my bracket, creatively titled "AlexEastland 1". AE1 was able to get a few points with LSU, Auburn, Florida State, and Michigan State squeaking by their respective opponent. But then it all went downhill.
11 seed Belmont was supposed to be my reliable sleeper team. With one of the most efficient offenses in the NCAA and a legitimate star in Dylan Windler, the Bruins looked to be a dangerous 11 seed. They could just straight-up make shots, and their win over Temple only solidified my confidence in my pick of Belmont defeating over-seeded LSU and Maryland. They really looked like a Sweet 16 team. Belmont's Dylan Windler had 35 points and 11 rebounds and Belmont held a 6 point lead in the final minutes. Everything looked right. Until it didn't.
Maryland 79, Belmont 77. That was the final score. AE1 took another big hit in the standings, as my Sweet 16 pick that would've given me a significant advantage to people who slept on the Bruins instead caused me to fall behind.
Then Marquette lost.
Then Nevada lost.
Then Syracuse lost.
But it was still okay. A few wrong picks wasn't the end of the world. Most of my Sweet 16 picks were still alive, and I was still feeling pretty okay. Maybe I wasn't going to land in the top 10, but AE1 still had a lot of potential. Day 2 looked to have a lot of upside, as I strongly believed in my upset picks UC Irvine and Arizona State.
But the breakdown began in math class. After taking a quiz that I barely had the time to study for (sorry, Mrs. Jo), I checked the score of the Iowa-Cincinnati game. Cincy had been up big earlier and I had the Bearcats upsetting Tennessee in the next round. I was feeling good about that one. The Oklahoma-Mississippi game was over quickly, as the Sooners stormed out to a huge lead. I
"
But the breakdown began in math class."
hadn't picked OU, but it was an 8-9 game that I was willing to drop. I just needed Cincinnati to come through. As the bell rang and I made my journey to Mrs. Williams room, the score was close.
I don't know the details. I don't know what happened. I don't really know anything. The only thing I knew for an absolute fact was that, sometime during that 3rd period English class, Iowa pulled off the mild upset. Checking scores on my phone in Mr. Adamee's room, I began to go into shock.
My bracket was done. I had exhausted so much time and effort for this bracket and I found myself in last place in both of my bracket groups (including the 70+ member CCES News bracket). UC Irvine's upset win over Kansas State gave me some life. I moved up a few spots with a solid upset prediction.
Then Arizona State lost.
Then Wisconsin lost.
Then Utah State lost.
Then Mississippi State lost.
Then Iowa State lost.
Waking up Saturday morning to find myself at the bottom of both my bracket pools at the end of the Round of 64 was one of the worst moments of 2019. The Round of 32, for the most part, was better for "AlexEastland 1". But the damage had already been done. Instead of riding the wave of success brought on by my research all the way to 1st place, AE1 was clawing its way out of last place. I had overthought everything. Every efficiency rating and adjusted scoring margin I looked at just put me further behind. Statistics mean nothing in March. Seeding means nothing in March. Nothing means anything in March.
Is it a bad look for me to be 57th place in the CCES News group? Is it a bit embarrassing to be in last place amongst all my friends when it comes to picking brackets, an art I dedicated a week to perfecting? Maybe. But, from this experience, I've drawn a valuable lesson.
When the brackets get released, don't you dare analyze the 3 point shooting efficiency of the teams. Don't even look at the points they score. If you want to win your March Madness pool, don't think. Don't try. Don't put forth any effort. It won't be worth it.
"
Don't try. Don't put forth any effort."