Perfect Christmas Gifts for Every Occasion
If you have had the distinguished honor of reading my previous article, The Social Acceptabilities of Christmas , then you are aware that we are well into the Christmas Shopping Season. As more and more radio stations begin to play Last Christmas, it is only natural to become more and more stressed about your Christmas shopping needs. But, don't worry! The Cavalier has you covered.
Whether you received someone that you know nothing about in Secret Santa or you just don't want to put a lot of effort into Christmas this year, universal Christmas gifts are a lifesaver. The perfect gift for the Christmas season is a gift that you can literally give anyone. However, the last person you want to be is the person that gives Amazon gift cards. If the present can't be unique or special, at least make it something…..not lame.
However, if you find yourself struggling to put on your thinking cap and actually come up with a solid gift idea, then you've come to the right place. So, without further adieu, here are 5 perfect universal Christmas gifts that aren't terrible:
Star Wars Obi-Wan Kenobi Electronic Lightsaber
Pretty much everyone loves Star Wars. The classic film franchise has fans of all ages. As the AAA batteries are inserted into this glorious sword, courtesy of Hasbro, the user can't help but feel like a true Jedi. It may seem like too childish of gift to give anyone over the age of 6, but, with a skillful flick of the wrist, this blue lightsaber will instantly transform into not only an unbelievably realistic replica, but an instrument of nostalgia. The lightsaber sounds will instantly bring the gift-receiver back to a simpler time, whether that is watching Star Wars: The Clone Wars with a bowl of Lucky Charms on their couch or first being transported to a galaxy far, far away in theaters all the way back in 1977. This gift is perfect for anyone that has ever wanted to be a Jedi (which, let's face it, is pretty much everyone).
Pizza Cone Set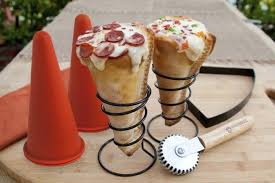 Any normal human being has, at least once in their life, wanted both a greasy, savory slice of pizza and a cool, refreshing ice cream cone at the same time. Good News! There's a better solution that putting tomato sauce and mozzarella on your chocolate cone. The Pizzacraft Grilled Pizza Cone set allows for a delicious homemade pizza to be made in a cone form. Though this gift will get a smile from everyone, it might get regifted by anybody with a dairy allergy or someone who's "just trying out" their new diet. But, for any chefs, pizza lovers, ice cream connoisseurs, or food eaters, this gift is perfect.
Have you ever seen a plant a thought, "I wish that wouldn't touch the ground"? Of course you have. Sharper Image has made your wish come true, as they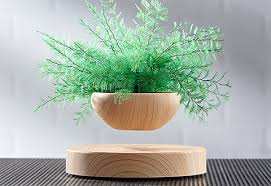 now offer a levitating fern for your enjoyment. Perfect for the office, the house, or anything that needs a little electro-magnetic greenery, this plant not only magically floats in mid-air. It also, according to Sharper Image, requires absolutely no soil or water (I know. I don't think it makes any sense either). The bottom line is this: any gift that somehow defies the laws of physics and biology makes a great Secret Santa gift.
There's no worse feeling than searching your freezer for that last half pint of Phish Food that you were saving for yourself before finding the empty container stuffed in the trash can. Instead of trusting human integrity to defend ice cream, you can just utilize Ben & Jerry's official Ice Cream Lock. Perfectly fitting around the pint, the lock requires a 4 digit combination to open the container. Nevermind that any committed ice cream burglar could simply just cut open the bottom and eat the pint upside down. This device is perfect for keeping honest people honest.
Tactical Grill Apron
This gift is perfect for everyone, even people that don't cook. This Tactical Grill Apron isn't just a practical and functional grilling apron. No, this is much more than that. This is an apron fit for Fashion Week. The stylish Utility Loops and the fashionable modular pouch (which displays the word "CHEF" in bold font) contribute to a modern, minimalistic aesthetic. The design includes several pockets for various condiments and the removable velcro patches allow for personalization. An adjustable waist strap also allows for the perfect fit. This Tactical Apron is defined by fashion and practicality and makes a great gift for everybody.