The Show Must Go On
September 21, 2020
Digital Learning Days were… well… they sucked. (Not the most eloquent way of putting it, but it's accurate). We realized that we had taken too much for granted: seeing our friends every day, learning in an actual classroom, and, tragically, the arts. While the Upper School "show season" ended just in time before The-Virus-That-Shall-Not-Be-Named, the Middle School musical was canceled, as well as countless community performances. 
Thankfully, the worst of quarantine is over and we are beginning to go back to some semblance of normal after 6 months of isolation. What does that look like this year for CCES? Keep reading for a behind-the-scenes look at the two theatrical performances scheduled for this year, as told by our wonderful drama director Mr. Halvorson and our delightful choir teacher Dr. Garner. 
Overall, the procedures for this year are shaping up to be quite different from the norm due to the rules of social distancing. Rehearsals for the fall play are taking place over Schoology, and while that has presented several tech issues, it has its perks. Unlike with traditional practices where outside distractions can interrupt directing, Mr. Halvorson can focus on the actors 100% over the camera, which will help everything run more smoothly in the long run. 
It also presents a special opportunity for those who play sports – typically, student athletes have to choose between that or theater. This year, there are two rehearsal time slots (one from 4-6 pm and one from 7-9 pm), which we wouldn't be able to do in-person. However, while athletes have crowds to cheer for them in the stands during games, there will be no audiences in the PAC this semester due to the fact that they are not outside, according to Dr. Garner. To ensure that everyone will still be able to watch, all performances will be streamed virtually during the fall semester, including those for choir, band, and orchestra. While it will surely be odd for students not to hear applause after all their hard work, having more work done online actually offers an upside. Whether we stay in person or have to go back to DLDs, rehearsals can still continue as usual, meaning that shows are unlikely to be canceled.
As for the spring, it is all up in the air.  "We're just trying to stay flexible right now and reassess how the year goes. We're trying to see how the community's health is overall before we make any real decisions," Dr. Garner said.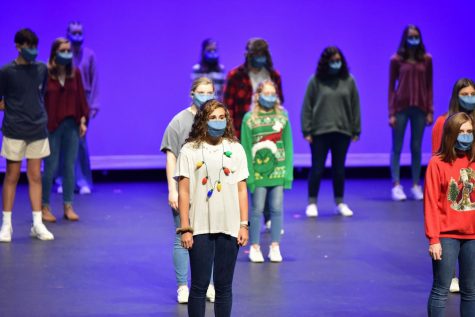 First performance on the agenda: the fall play. Auditions for "A Christmas Carol: A Radio Play" finished up two weeks ago, and from December 9th-12th, families can stream it for a small fee through their TVs. Not only is this the first CCES school play of its kind, but it also breaks the school record for the largest number of people ever in a fall drama production; 22 cast members total, twice the number of people intended for the show, surpassing "Letters to Sala" only by one. This is achieved by switching out cast members in between scenes, which are to be underscored by live piano and sound effects, in addition to chilling vocalizations. These all add to the old-timey aspect of the play, as it alludes to a time when families would sit by their radios and listen to their entertainment by the fire. It evokes the feeling of having a mother or father read the story to you in your childhood. With these effects, Charles Dickens' novel is "brought to life." In a way, it's symbolic of the times we're living in now – just like Ebeneezer Scrooge, we started the year out being angry at the world, but hopefully by the end, we will have changed for the better because of our present circumstances. 
Next up: the spring musical. While it is still undecided as to what the production will be, there are several options for the directors to choose from. The most likely of these is a cabaret, which consists of a series of acts- solos, monologues, and small groups – all with the thread of an overall theme running through the tapestry The key to keeping this in line with mitigation guidelines is having fewer people on stage rather than a large cast such as those for typical musicals. For example, the cast of last year's "Cinderella" amounted to 50 people, all of whom were on stage together at various points throughout the show. Despite these unusual measures, the theater department is "committed to having a performance in the spring," Dr. Garner said.
While most of the plans for the musical are still up in the air, the Student Body has plenty of opinions on the upcoming theater season. Cutler Fowler, who has participated in 3 shows in his time at CCES, has mixed emotions. While he looks forward to even having a musical (a question largely debated by theater kids over the summer), he said he laments the inevitable lack of "the past feeling of the CCES communal productions", especially for the seniors. As for the underclassmen, he predicts a lower turnout than usual due to there being smaller acts and less people to back them up or hide their mistakes. (Of course, we hope that that isn't the case – the more, the merrier!) Fellow sophomore Hampton Orr professes that she is "new to acting" and feels similarly about having less people on stage, but she is also keeping a positive outlook. They both agree that this style of show is best suited for the uncertain school year. 
Overall, 2020 has not been what we expected. Thankfully, that hasn't dampened the spirits of those involved in the productions this year. "It's all challenging. . .because it's not what we're accustomed to, but… all of the arts students I've worked with are exhibiting a really positive attitude," Dr. Garner said as she praised her choir students. The same goals remain – quality, comradery, and joy; they've merely been adapting to the present in preparation for the future. Mr. H sums it up perfectly: "With something new, we have two ways to go about it: We can throw our hands up in the air and just say 'Oh well' .. or we can really embrace the platform we've been given and the unique approach that will have to come with this type of process… if [everyone] leans into it, then we will still come out with a really quality product." 
We still have no idea what awaits us until the curtain rises. But what makes CCES stand out is the drive and creativity of the wonderful people at the head of these musical happenings and the students who give 1000% every time they're on stage or in rehearsal, live or virtually. And at the end of it all, despite the challenges we face, we can say at the end of it all, "We did a good job."