Consistency Prevails As The Padilla Era Begins
September 15, 2020
The first thing that will strike you as you walk into CCES Headmaster Mr. David Padilla's office is that he likes to read. Before even making eye contact with the new headmaster, I feel engulfed by literature. Bookshelves are filled to the brim with hundreds, if not thousands of books. When writing about Dr. Kupersmith during his departure from Christ Church, his love of reading, learning, and knowledge became a central theme, a love deep enough to serve as the impetus for a 13-year career as headmaster. As the baton is passed to Mr. Padilla, these driving forces remain the same.  
There is an old saying that can be credited to Benjamin Franklin: "Nothing in this world can be certain but death and taxes." But in conversation with Mr. Padilla, it becomes apparent that consistencies within education exist as well. When asked to name the most impactful book from his collection, he selects the works of John Dewey as the single work that had the largest impact relevant to his educational career. In studying these earliest 20th century works of educational philosophy, Padilla finds constancy. 
"Good teaching has always been good teaching," he explains, "and what was working in 1920 worked in 1950 worked in 1970 works now." 
Obviously, pandemic-related similarities excluded, 1920 is not 2020. But what a 1920 student looked for in an educator is comparable to what a student desires in 2020, which is, according to Padilla, an educator who is "authentic, engaging, well-informed, and dynamic, but, above-all, treats young people as they have valuable ideas and testing those ideas in conversation." It is this principle that brought our current head of school to teaching, utilizing English as a vehicle to test the valuable ideas of his students through conversation.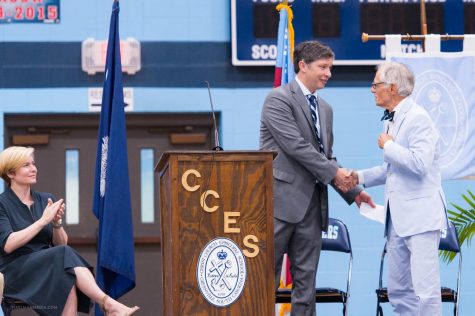 The elephant in the room as I converse with Mr. Padilla is the cloth barrier between us. I bring up the masks and Covid-19 in general, thinking that it must be a tired and irritating topic, assuming that Coronavirus threw a massive wrench into his transition to Christ Church. I would be wrong. Citing his surrounding leadership team, on whom he brags at length, Padilla calls the emergence of Covid-19 "manageable". But he's not stopping there. He goes so far as to call the pandemic "helpful" to his transition, forcing him to quickly assume the role of planning the 2020-2021 school year and expedite the transitory phase. The one challenge posed by the pandemic that Padilla admits to struggling with is meeting new people while wearing masks, as putting names to half of a visible face presents an issue. Outside of this, however, the central message of our conversation arises: consistency. 
This message stands out in stark contrast to ones we are constantly being presented with, both inside and outside of Christ Church. But, despite the emergence of various confounding variables amidst the pandemic, the passing of the baton from Dr. Kupersmith to Mr. Padilla exemplifies constancy to a tee. Fearlessly looking a pandemic dead in its eyes, from one lover of books to another, the transition happens flawlessly, and it's all going to be okay.