Reaching Out To Reluctance: Generation Z's Atheism Trend
February 4, 2020
As the fresh excitement of the new year turns into the frozen lull that is late January, a sudden spiritual awakening occurs in Greenville. Instagram feeds become flooded with cliche photoshoots from YoungLife church camps, equipped with Bible Verse captions. It's a cycle that repeats itself each year, with a new bunch of high schoolers making the YoungLife pilgrimage each year. They go to a weekend-long Christian camp with other schools from the area, hear about Jesus' teachings, and head home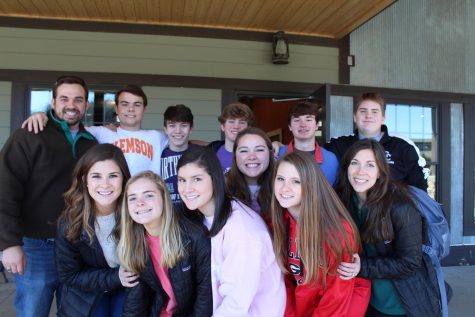 , often with a rekindled love for Christ. But capturing the spiritual attention of such a large group of teenagers isn't nearly as easy as it seems. 
The teenage demographic, when it comes to religion, is a tricky one. According to research from the Barna Group, 13% of Generation Z (born between 1999-2015) identifies with atheism, more than double the average across all age ranges. The first question is simple: why? According to the same Barna Group study, the most common barrier to faith among Generation Z was "having a hard time believing that a good God would allow so much evil or suffering in the world". This doubt comes inherently with the teenage demographic. As the innocence of youth begins to be stripped away, your average teenager begins to truly see what is happening in the world. The sugarcoated fantasies of childhood are wilted away and what is left is an increasingly scary and dangerous world. Facing these evils, Generation Z calls religion into doubt at a higher rate than any other generation. 
Outside of the inherent knowledge of good and evil gained in teenage years, a big part of the answer is that there is less social pressure to identify as religious, especially among young adults. In fact, a young adult today is more likely to feel social pressure to justify being religious than identifying with Atheism. This social pressure to justify religion isn't just felt in non-religious environments. Even at a school like Christ Church, where Chapel is a weekly routine and Biblical Studies is a required class, students still feel the need to defend their faith. When asked about the social pressures he felt regarding religion, sophomore Andrew Mahaffey asserted that "in today's society, certain social groups want you to conform to their norm. In many cases now, even at CCES, that's a non-religious point of view, which increases the amount of pressure put on people who believe in a certain religion."
Spending this past weekend with the CCES YoungLife group, I expected to find myself surrounded by devout Christians. Instead, just two hours in, I found myself listening to the weekend's speaker, who introduced himself as Ben, discuss man's freedom to choose to have a relationship with God. A few minutes into Ben's sermon, I began to pick up on the self-awareness of YoungLife. They know not every teenager is a Christian. They know not every teenager wants to be a Christian. Connecting with high schoolers is never easy, especially with a heavy topic such as religion. But it seems that YoungLife has found the secret to connecting with teens.By creating a free and open space for teens to decide for themselves whether or not they want to go on a religious journey, the social pressures that plague the religious youth disappear.