Dodge,Duck, and Dive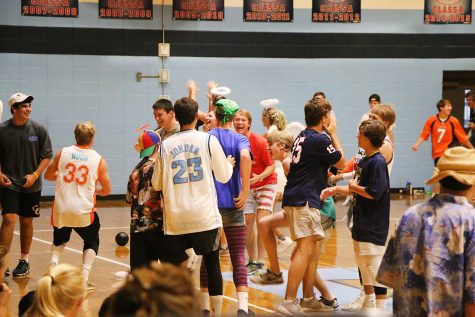 Cavaliers we are the best, are we not? The week of September 25th-30th is the very exciting, long awaited week of Spirit Week! All throughout the week are exciting events during school and after school. The profits of these events go to St.Anthony's school .St Anthony's school is a Catholic school located on Gower street outside of downtown Greenville. The profits are used to support the after school program. The Christ Church student council worked very hard to come up with dress up days at school along with the night events. The theme for the 2017 Homecoming week is Armed Forces. Monday, September 25th, the Christ Church high school kicked off spirit week with each grade dressing up as their designated armed force branch. Throughout the high school you would find the Seniors dressed up in their best Navy outfits and the Juniors in their best Army outfits. The Sophomores were dressed in their best Air Force outfits, and completing the armed forces theme, the Freshmen were dressed in their best Coast Guard outfits. Throughout the week at lunch TCBY is selling ice cream, the profits from TCBY go to St.Anthony's, the student body can also raise money by singing karaoke at lunch.
On Monday night, students kicked off the night events of the 2017 Homecoming week. Students created teams of eight people for the dodgeball tournament. Teams could be completed of students who are in 9-12th grade. The tournament took place in the McCall Fieldhouse, where student teams faced other very challenging teams. The team that won was none other than a group of senior boys. The group defeated many other teams of underclassman teams.If you did not want to play dodgeball, you could pay $5 to watch the dodgeball teams battle it out for the win. Dodgeball was not the only night event of this year's spirit week.
Tuesday students went to Tacky Prom, Wednesday night was Frankie's Fun Park, Thursday night was a movie and the Cavalier girl's volleyball game. On Friday night, the long awaited night of the football game against the Cavalier's rival St.Joes is played at Carson Stadium. At Friday night's football game the anticipated reveal of the 2017 Homecoming Queen is announced at halftime. This year's spirit week is very exciting, so hopefully you didn't miss out, it is a week that will be remembered.