5-Peat: Christ Church Girls Tennis Submits Its Place Among High School Sports Dynasties
December 3, 2020
 It's become something of a tradition that the Christ Church Cavaliers Girls Tennis team received their annual ticket to the SCHSL AA State Final, but this championship capped off what looks to be the foundation of the program moving forward.
Defeating Philip Simmons 6-0 on Halloween, the Lady Cavs were able to capture their fifth straight state championship and their 12th title since 2005. The team's seniors, Sarah Allen, Mary Cage Carter, and Avery Nuckolls, were able to be a part of all five state championships, while making six straight championship appearances. All have been members of the team since seventh grade.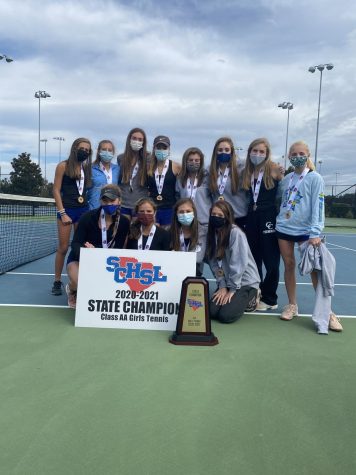 "It was our senior year and it was special that we ended our career with one final win," Carter said after their victory.
The Cavaliers finished with a perfect 17- 0 record and cruised through the state playoffs, qualifying for the state championship match. In the state final, the No. 3, No.4, No.5, and No.2 doubles made quick work of their opponents, earning the four wins the team needed to clinch the championship.
"Coach Adams always tells us a format to be generous before our matches and we apply that logic to every opponent we play", said Allen.
The Cavaliers, who are in the AA division, proved they are able to compete with teams in higher divisions, with former victories over AAAA and AAAAA opponents such as Greenville High School, J.L. Mann, Spartanburg High, and Mauldin. The Lady Cavs' dominance among teams in their region conference and across the state proves them to be a top tennis program even compared to schools with much more students. Going a combined 65-1 over the past five seasons, the Christ Church Girls Tennis Team has proved itself to be a top tier tennis program.