2020 Fall Sports Preview
October 1, 2020
The Corona-Virus has changed many ways we can play sports this year. The athletes at Christ Church have done everything they can to stay on the field and play the sports we all love. Our school has done a great job of creating and following protocols to keep us all safe. In this article we will give you a breakdown of the six fall sports teams and what their seasons hold. 
Coming off a dominant state title run, the Girls Tennis team should pick up right where it left off last season, with many of the team's core players: Annie Jennings, Sarah Allen, Avery Nuckolls, and Mary Cage Carter returning for the 2020-2021 season. With tennis being a non-contact sport, COVID-19 will not shift the season very much. Senior Captain Mary Cage Carter says the only changes are "having to wear masks off the court and have different cans of balls for the opposing team". With an overlying theme of consistency, both in regards to practice protocols and scheduling, the Girls Tennis team should once again be fun to watch this season.   
Christ Church fields one of the only Field Hockey teams in the state of South Carolina, forcing the Lady Cavs to travel to North Carolina and Georgia. The girls' field hockey team is one of the few teams in South Carolina. The past few years they have had to travel to North Carolina and Georgia, and occasionally they would play club teams. This season they only scrimmage against club teams and one or two North Carolina schools. Jessica Mikesell wishes their season could be longer "because we don't have enough time to be comfortable in game situations with each other." They practice together but have to wear masks and follow protocols. The girls are not able to be within six feet of each other unless they are on the field playing.
 The Varsity Volleyball team's schedule should be a little different from other fall sports, as they are one of two, also Swimming, that will be competing indoors. COVID-19 does spread faster while indoors, so the protocol for the Volleyball looks very different than others. Ava DiBatista says the team "has to wear masks all of practice, which gets annoying trying to run laps." The COVID protocol for the team will be tough to get used to, but it should still end up to be an exciting season for the Volleyball team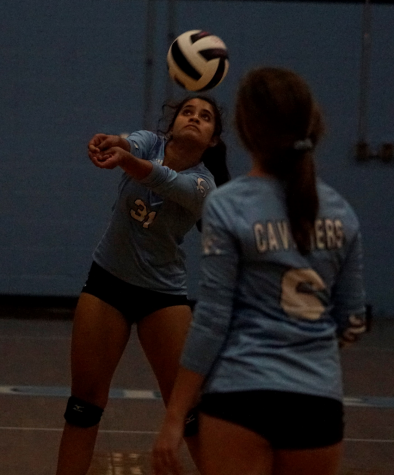 The varsity football teams schedule has been reduced to 7 games. The playoffs will only take the two best records from our conference. New head coach Quinn Hatfield took over as the head coach in June. He has seen his players grow since then and talks about the work his players have put in this season "There's a mental toughness component to all of this as well. Our team has taken a workmanlike approach and continues to show up day in/day out with the goal of getting better. Our theme for the season: ELEVATE – Elevate our mindset around what we think we can accomplish." The mindset around the team is that if they work hard great things will come in return. The players are also excited about the season and BJ Atkins says "I wish the fans could come to our games and see the hard work we put in during the off season." The Cavs played their season opener against Ninety-Six last Friday. They won with a final score of 35-19. Their defense was on display with a total of 5 takeaways and 2 defensive touchdowns. They play again this friday against West Oak and hope to get another win. 
The Cross Country team has had their season impacted by COVID as well, as major changes have been made because of how large numbers of schools would normally all be at region or state meets. Larger-scale meets most likely won't be possible this year, and the changes have to be made on a day-to-day basis. Tripp Teague says the team "has had to train in groups in 10-8 people, we have to wear masks while warming up and cooling down before and after practice." It is no surprise that wearing masks will have a massive impact on a sport centered around running. It will be exciting to see how the team performs in this shortened season. 
The Cavalier swim team placed third at state last year. This year they hope to win it all and take home a title. Kylie Larkin says, "We can't have spectators on the pool deck which changes the atmosphere of our races." The only time they are able to take their masks off is in the pool. They must wear them when waiting to race, warming up, and cheering on their teammates. The Cavs hope to have a successful season while staying safe.  
The Fall Sports Season will be very different from what we are all used to, but it will still feel uniform as they still get to play, unlike many other schools in the area. All six fall sports teams should be interesting this year, as we haven't seen high school sports in seven months. We hope all teams follow their respective protocols and get to stay on the field for the entirety of the season. Go Cavs!