Ranking the Top 15 NBA Players Under the Age of 25
September 8, 2020
The NBA has amazing young talent throughout the league. This article is a list of the top 15 NBA players under the age of 25. These players were chosen based off of their stats, leadership, and skill. Many of these players have taken on big roles since entering into the league and did not back down from the challenge.
Honorable Mention: Jaren Jackson Jr.
Age: 20
Position: Power Forward
Team: MEM Grizzlies 
Jaren Jackson Jr. was drafted 4th overall in the 2018 NBA draft. The Grizzlies took a chance on the Michigan State forward because of his scoring and defense. The Grizzlies have gotten the offense they expected from Jaren during the 2019-2020 season. He averaged 17 points per game and shot 49% from the field. The defense has not been as good as Memphis may have hoped because he averages 5 rebounds, 1 block, and 4 fouls. Jaren is only a second year player and still has a lot of talent left to discover. At this point in his career, Jaren has much more potential to discover. 
Honorable Mention: Shai Gilgeous-Alexander
Age: 22
Position: Shooting Guard  
Team: OKC Thunder
Shai was traded to OKC in the summer of 2019. He stepped into the starting roll at Shooting Guard when he arrived from LA. He was led by Veteran Chris Paul and had immediate impact. In the 19-20 season he averaged 19 points, 6 rebounds, and three assists. He did not make my top 15 due to his inconsistency. However, he shows the talent and potential to be a future star in the NBA.  
15. De'aaron Fox
Age: 22
Position: Point Guard
Team: SAC Kings 
3rd year player De'Aaron Fox has come into his role as the Kings' future star. He averaged 21 points per game, 7 assists, and 4 rebounds. Fox showed his quickness on defense and pure speed in transition. He averaged 1.5 steals a game and 0.5 blocks. Fox claims that he is the fastest player in the NBA and shows this in transition. His ability to blow by defenders and beat them up the court separates himself from other young players. 
14. Zion Williamson
Age: 20
Position: Power Forward
Team: NO Pelicans 
The rookie Zion Williamson has only played 24 games this year due to injury. In these 24 games Zion averaged 22.5 points, 6.3 rebounds, and 2 assists. Zion showed he is the real deal in the few games he played this season. Zion is an explosive player with one of the highest verticals in NBA history. If he can stay healthy Zion can be the face of the NBA and the entire sports world.  
13. Bam Adebayo 
Age: 23
Position: Center 
Team: MIA Heat
Bam Adebayo had a breakout season for the Heat. The first time All-Star averaged 15 points per game, 10 rebounds, and 5 assists. The do-it-all center proved that he play every position on the floor, including 1 steal and 1.5 blocks per game. After recording 3 triple doubles this year, he opened the eyes of the league to what he can do. 
12. Ja Morant
Age: 21
Position: Point Guard 
Team: MEM Grizzlies
The leader in Rookie of the Year votes proved that he was worth the second pick in the draft. Ja averaged 17 points per game and 7.3 assists. With his explosiveness and vertical, Ja was able to amaze the league with his high-flying dunks and crazy layups. Ja does not lead in every stat category, but he showed that he was a leader of the young Grizzlies team. He will most likely win the upcoming Rookie of the Year event and can hopefully only improve on what he has already done.
11. Kristaps Porzingis
Age: 24
Position: Power Forward
Team: DAL Mavericks
Kristaps Porzingis is known as the "Unicorn" for his elite shooting ability and for his height. Standing at 7'3 with a 7'6 wingspan he is able to block shots that a lot of other players can't. Averaging 9.5 rebounds per game, he is able to get a lot of second-chance opportunities. He averages 20.5 points per game and 2 assists per game. His offensive skills combined with his height and length make him one of the premier big men in the league. The reason the All-Star is so low on my list is because of his injuries. Kristaps has been hurt multiple times throughout his career and will no doubt be a superstar when healthy. 
10. Jamal Murray
Age: 23
Position: Point Guard
Team: DEN Nuggets
Jamal Murray is a leader on a young and talented Nuggets team. In the 2019-2020 regular season, Murray averaged 18.5 points and 5 assists per game. Jamal Murray really showed his potential in this year's playoffs. Murray averages 34 points per game and has two 50-point games. He has a total of 204 points through only 6 games. He has proved that he can take over a game and series and be a great player when his team needs him. 
9. D'angelo Russell
Age: 24 
Position: Point Guard 
Team: MIN Timberwolves
The 1-time All-Star D'angelo Russell was traded to the Timberwolves this year. The point guard, known for his clutch shots, averaged 23 points per game and 6.3 assists per game. Russell has been in the league longer than a lot of the Timberwolves players, which is a big reason why he was traded to Minnesota. Russell helps lead his team young players and helps carry the team offensively. He has been on 4 different teams and has experienced a lot in the league.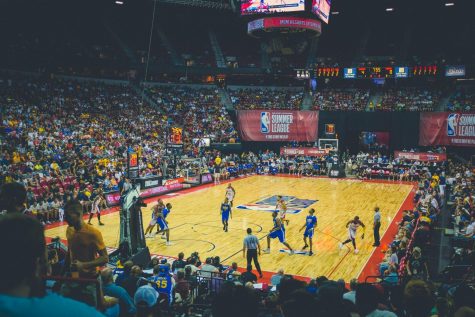 8. Brandon Ingram
Age: 23 
Position: Small Forward 
Team: NO Pelicans
The first year All-Star Brandon Ingram won the NBA's Most Improved Player. After being traded from the Lakers to the Pelicans in the summer, Ingram took on a much different role. He went from being a developmental player to the first scoring option on a young team. He went from scoring 18 points off the bench to 23 and leading his team. Ingram got his teammates involved as well averaging 4 assists and 6 rebounds. Ingram was recognized by the league and was voted to his first All-Star appearance this year. 
7. Donovan Mitchell
Age: 23
Position: Shooting Guard 
Team: UTA Jazz
Guard Donovan Mitchell has taken over the role of a leader on the Jazz team since he was a rookie. Mitchell averaged 24 points this year and proved why he is one of the top shooting guards in the NBA. Mitchell played an amazing play-off series, leading the NBA playoffs in scoring. Averaging 38 points per game through the series and two 50 point games he showed the league he can take on the major scoring role for the team. While averaging 38 points he is still able to get his teammates involved with his 5 assists per game. The All-Star showed that he can take control of a game when he needs to.
6. Karl Anthony-Towns
Age: 24 
Position: Center
Team: MIN Timberwolves
The two-time All-Star center had potential since entering the NBA. KAT won the Rookie Of The Year in the 15-16 season. He has taken over the role as one of the best scoring centers in the league. In 19-20 KAT averaged 26 points, 4.5 assists, and 10.8 rebounds. Standing at 6'11, Towns creates a mismatch with the defender because of his size and scoring ability. The Timberwolves ended in disappointing fashion by not making the playoffs. However, their  future is looking bright with the duo of KAT and Russell. 
5. Trae Young
Age: 21
Position: Point Guard 
Team: ATL Hawks 
Coming out of college, Trae Young was known for his deep three-pointers. Trae continued his scoring when he entered the league. He averaged 29.3 points, 9.3 assists, and 4 rebounds. Trae plays on a very young Atlanta team that is now building around him. The Hawks had a very bad season with a record of 20-47. However, I see them making a complete turnaround next season. The Hawks have the 6th pick in the NBA draft, which will allow them to add more depth around Young. Trae was a first-time All-Star this year and was a very bright spot for the Hawks. Fans knew he was special last year when he was drafted. Trae was the runner-up for rookie of the year but made it a tight race. Trae has superstar talent and great leadership. 
4. Ben Simmons
Age: 24 
Position: Point Guard
Team: PHI 76ers
Ben Simmons is not what you would expect when you think of an NBA point guard. Simmons is 6'10 and does not shoot threes. He is built with the size of a power forward but the skills of a point guard. Simmons is much bigger than most NBA point guards giving him the advantage to guard any position on the floor. Simmons led the NBA in steals with 2.1 per game. He also scores 16.9 points per game and averages 8 assists. Simmons is on a good Sixers team that was sent home from the playoffs much earlier than most expected. Simmons was out of the series with a knee injury but will be back by next season.  
3. Devin Booker
Age: 23
Position: Shooting Guard
Team: PHX Suns
Devin Booker is an amazing scorer who has been overlooked his entire career. Booker holds the record for third most points scored in one game. In 2017 he scored 70 points in one game and his team still lost. This season booker averaged 26.6 points per game, 6.5 assists per game, and 4.2 rebounds. Booker really showed his skills in the NBA bubble where he averaged 31 points and 6.8 assists. Booker led the team to go 8-0 in the bubble and drew the attention of the entire league. Booker made the All- Star game this year but was originally snubbed and was only in because Damien Lillard was injured. He should have made the All-Star team even without Dame's injury but is overlooked by a lot of people because of the team he is on. 
2. Jayson Tatum
Age:21 
Position: Small Forward 
Team: BOS Celtics
Jayson Tatum was another first year All-Star. This year Tatum led the Celtics in scoring averaging 23.4 points per game. He averaged 3 assists and 6 rebounds. Tatum has shown that he can be a leader and scoring leader on a very good team. In this year's playoffs he has averaged 27 points per game and helped the Celtics sweep the 76ers in the first round. Tatum has taken over the role as the Celtics top player and is already a star in the league at just 21 years old. 
1. Luka Doncic
Age: 21 
Position: Shooting Guard 
Team: DAL Mavericks  
Last year's Rookie Of The Year winner Luka Doncic went from rookie to MVP candidate this season. Luka almost averaged a triple double with 28.8 points per game, 8.8 assists per game, and 9.4 rebounds per game. Luka led the Mavericks to the 7th seed in the playoffs and didn't stop there. He averaged 31 points, 8.7 assists, and 9.8 rebounds a game. Unfortunately, the Mavericks were sent home in game 7 of the first round. Luka stepped into big moments all season and hit a game-winning shot in game 4 of the series. He made his first All-Star game this year ,will have many more in the future along with playoffs and hopefully championships.