Marble Racing and Michael Jordan: How Athletes and Fans are Reacting to Corona-Induced Sports Cancellations
March 26, 2020
First, they took the Ivy League. Glancing at the TV displaying ESPN's "The Dan LeBatard Show" during my weightlifting class, I noticed breaking news flash upon the bottom ticker: "Ivy League Cancels Conference Tournament amid Coronavirus Fears". The whole class laughed at the absurdity of it. It seemed like a massive overreaction by the Ivy League. Cancelling the culmination of an entire basketball season just because of the Coronavirus seemed ridiculous. Oh, how times have changed. 
Slowly, but surely, sports began dropping like flies. Every day, there would be a new ESPN headline that the weightlifting class would mock. The day that Utah Jazz star Rudy Gobert contracted the virus, however, was when everything began to change. The NBA was the first American pro sports league to have an athlete fall victim to COVID-19. Within hours of Gobert's diagnosis, games had been cancelled and, by the end of the night, the NBA had ended its regular season. The comments calling the NBA's reaction to be excessive and unjustified still poured in over Twitter. People still saw this virus as a bad flu, and couldn't see how it was capable of cancelling an NBA season. By the end of the week, however, virtually zero sports remained, as the MLB preseason, the NHL, the MLS, and the XFL, as well as most high school and all collegiate sports, were cancelled.
Possibly more entertaining than watching sports themselves is watching how sports fans cope with the athletic vacuum created by the Coronavirus. The SportsCenter, ESPN, and Bleacher Report Instagram accounts began to spiral into insanity, having nothing sports-related to post. My personal competitive edge felt suffocated. In dire need of the thrill brought on by watching top-tier athletes compete for superiority, I, along with much of the Twitter world, began to embrace a sport effectively immune to the wrath of Coronavirus: Marble Racing.
My last weekend before self-quarantine was spent in a living room, surrounded by 10 other CCES students in need of a sports fix, with attention fixed on the TV. On the coffee table in front of me was a stack of $1 bills, the pot. In just 3 days post-sports cancellation, I had resorted to gambling on YouTube videos of marbles racing around the track. The production value of these videos, created by Danish brothers Yelle and Dion Bakker (or Jelle's Marble Runs), is surprising. These marble racing videos pit variously colored marbles against each other in NASCAR Cup-style races for dominance. There are stands, filled with marble fans for their marble teams. The set designs vary, and are fairly intricate. The commentary on each video, done by Greg Woods, lacks any self-awareness whatsoever, which is truly a beautiful thing. I became immediately hooked, staking my claim on the "Midnight Wisps" as my team of choice. Following this season's "Marbula One" series has been painful to say the least. I've watched, race after race, the Midnight Wisps constantly disappoint. Despite this, Jelle's Marble Runs has, as a fan, filled the void in my heart that the sports cancellations created.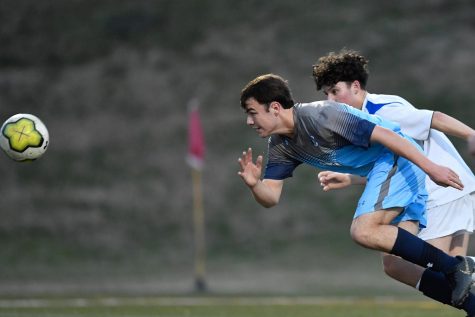 As fans, marble racing has opened up a new world of Coronavirus-proof athletics. But, as athletes, the sports world is still incomplete. With social distancing advisories, many spring sports seasons have found themselves either cancelled or in postponement limbo. For spring sport athletes, like varsity soccer player Bennett Mahon, months of preparation have gone into a delayed season that finds itself in danger of being canceled. With the hope of a delayed spring season still on the table, however, spring sport athletes are tasked with staying in shape for their sport, without organized practices or breaking social distancing. For Mahon and the rest of the Boys' Soccer team, this looks like a lot of running and a lot of technical work. Varsity basketball player Mason Johnstone, unlike Mahon, saw his school athletic season come to completion, but his AAU off-season league effectively cancelled. As both a fan and an athlete, Johnstone has begun turning to watching throwback NBA film, studying Michael Jordan's film closely. With the absence of current NBA games, this keeps Johnstone entertained, perhaps more so than marble racing, as well as allowing him to improve his game in the comfort of his own home. 
When the NBA was cancelled, it felt like the sports world had fallen apart. It truly is a hard time to be a sports fan. But, just as everyone else, we must adapt. Whether that comes in the form of YouTube marble races, neighborhood runs, or 1996 Chicago Bulls film sessions, it's an adjustment that those in the sports world, both fans and athletes, must make.