Playing In Front of Empty Stands: The Causes and Effects of Attendance at Sporting Events
February 27, 2020
On Sunday, February 9th, 2020, Navy defeated Duke in a wrestling match, 39-6. But you didn't know that. You weren't supposed to. The match took place at Northwood High School, a small North Carolina high school with a gym no larger than that of Christ Church. Attendance was pushing 100, and that's including friends, family, teammates, and supporters from host school Northwood's own wrestling team. Sitting behind the Duke team parents, I got the rundown on the season. It had been a rough few weeks for the Blue Devils, as they had yet to tally their first team win of the season. Several of Duke's stars had taken redshirt seasons this year, incredibly common in the sport of college wrestling, and the roster was consequently young. With just two upperclassmen on the starting lineup, the team struggled. Typically, an 0-14 record and poor attendance are indicators of a "bad" team (it's important to note that Duke was ranked in the top 25 just last season). But that's not the case.
Listening to the wrestlers' parents, looking at the wrestlers' individual accolades listed on the roster, and simply watching the wrestlers' warm up and compete, I came to the realization that every member of Duke's team is an objectively exceptional athlete. My two years of high school wrestling has given me a taste of the work required to be successful in the sport. These guys make Christ Church wrestling look like a cakewalk. 149 pounder Wade Unger was a 4 year letterman at Bergen Catholic, arguably the best wrestling school in the country. 197 pounder Vincent Baker was a Greco-Roman Junior Nationals champion, 3x State Champion, and held a 197-14 record in high school, making him the winningest wrestler in his school's history. 165 pounder Ben Anderson was a 4x State Champion, and 4x NHSCA All-American. These athletes dedicate their lives to the sport of wrestling, a difficult commitment that includes strict dieting and brutal workouts. That hard work and dedication all comes out during a match. But, for these athletes, the audience for these matches remained confined to a handful of parents, local wrestlers, and a limited group of fans. 
In complete contrast to the undersized yet empty Northwood High School gym is Duke's Cameron Indoor Stadium, the home of Duke's storied basketball program. Just a day after watching the Duke-Navy match, I stood court-side, within breathing distance of the fabled "Cameron Crazies" (Duke's dedicated student fan base), as Duke took on #9 Florida State. Cameron was electric for the entirety of the game. Students, who had spent the entire basketball season camping out in the famed Krzyzewskiville,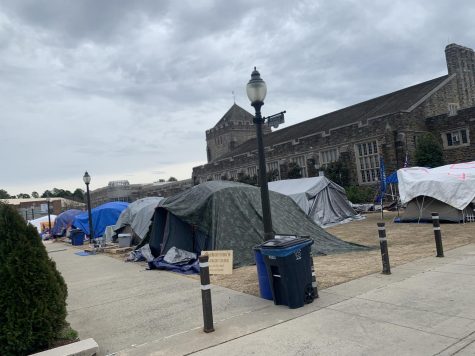 painted in full body blue paint hurled insults at the Florida State players. The band played at a thunderous volume, somehow remaining audible over the deafening home crowd. This is, of course, expected. Duke has been a basketball powerhouse for decades. Duke's wrestling team, though undeniably composed of incredible athletes, hasn't maintained the same success. But can you truly attribute attendance to success? Lying in the juxtaposition of the basketball and wrestling crowds at Duke University is an essential question: what causes this disparity in attendance? Are some sports inherently more entertaining than others? What effects does that have on athletes?
To isolate the attendance disparity present in athletics to a CCES context is not difficult. Attendance is a common complaint amongst sports like track, cross country, swimming, and tennis. Using the environment of Christ Church as an example, it becomes clear that success is not directly linked to attendance. If this were the case, the girls' tennis team and boys' golf team would see huge numbers turning out to every event. But that's just not the case. Sophomore varsity golfer Walker Jennings has already helped the golf team to 3 state championships, part of the 7 year state championship streak that the team has maintained. The attendance for golf matches, however, is virtually nonexistent. If fans were truly motivated simply by success, they would flock to Christ Church's most successful sports. But the most heavily attended events are consistently football and basketball, no matter the success of these teams. 
The truth is, some sports are simply inherently more entertaining to the masses. A sport like football contains all the factors that go into excitement: obvious athleticism, a clear scoring system, and a taste of violence. In addition to football, the basketball team typically enjoys sizable crowds. The pacing of the sport, in addition to the popularity of it nationwide, fosters an environment where the entire student body makes an effort to come out and support on Friday night games. This support, per varsity basketball player Mason Johnstone, helps a team monumentally, as without it, "teams struggle to create their own energy". Competing with a wave of fan support, however, is a harsh reality for athletes like golfer Walker Jennings. The previously mentioned characteristics of inherently interesting sports are noticeably absent in golf. "The pace of it is slow," Jennings explains, "and people don't really watch it on TV, so the scoring system is difficult for a lot of people to follow. It's a lack of education and appreciation that really hurts the attendance." 
The attendance problem in golf, however, hasn't prevented the team from success. While the team has achieved high accomplishments without consistent student support, Jennings feels that it would "be a lot more fun" if he could play in front of a crowd of fans. For high school athletes who invest hours of time and effort into these sports, with (obviously) no pay or tangible reward, student support is important. It's difficult to bring home 7 consecutive state championships, without attendance from your student body. But that situation remains a reality for countless athletes nationwide. As these athletes reach a higher level, the lack of support for these smaller sports remains. If my trip to Duke University taught me one thing, it's that, despite the gap in athleticism between high school and DI athletics, one truth remains: not all sports are created equal.