The Fall of Florida State Football: What Happened?
November 9, 2019
It's November 2013 and you're watching College Gameday. Macklemore's "Thrift Shop" is playing in the background and you're wearing a Rainbow Loom bracelet. #7 Miami (FL) is taking on rival #3 Florida State, with both ACC powerhouses looking to establish dominance in the conference. It's a cool November night in Tallahassee, with 84,000 people packed into Doak Campbell Stadium. Jameis Winston, future Heisman winner, jogs onto the field alongside Kelvin Benjamin and Devonta Freeman. On this night, the trio, accompanied by 23 other future NFL starters, will go onto put together one of the most impressive wins in the history of the Miami-Florida State rivalry. Defeating the Canes 41-14, the Seminoles looked nearly flawless. The pieces for a dynasty are there. A mastermind coaching staff in Jimbo Fisher and Jeremy Pruitt, a star QB in Jameis Winston, and a prime recruiting location in Tallahassee, FL.
    Exactly 6 years later, Miami and Florida State meet again in Tallahassee. This time, neither team is ranked. Instead of a battle for the control of the ACC and a potential spot in the National Championship, this game was a scrap for 8th place in the conference. Florida State dropped the game 27-10 to move to 4-5 on the season. The next week, Head Coach Willie Taggart is fired. What happened?
    This is the question that Florida State fans have been struggling to answer for years. The Seminoles became competitive during the 30-year Bobby Bowden coaching era. Bowden lead the team to 28 straight bowl appearances before his retirement in 2009. He was subsequently replaced by Jimbo Fisher. The highlight of the Jimbo era was the aforementioned 2013 Florida State team. After collecting 14 straight easy wins in the regular season, the Seminoles faced a scrappy Cinderella-story Auburn team. After going down 21-3, the Seminoles put together a comeback proving their dominance, as Jameis Winston put together an 80 yard game winning drive to cap off an undefeated National Championship season. 
    The 2014 team was less convincing. Still lead by Winston, the Seminoles remained undefeated all season, but were not nearly as impressive in their wins. Despite being the only undefeated team, they entered the 1st College Football Playoff as a 3 seed. But don't feel too bad for them because they probably didn't deserve to be there anyway. Oregon star QB Marcus Mariota led the Oregon offense to a 59-20 demolition of FSU. This game, to many, was the end of Florida State football as we know it. 
    The Seminoles were decent in 2015-2016, going 10-3 and finishing in the top 10 in the AP poll. After being brought back down to Earth, FSU was expected to come back. Big time. They were 3rd in the 2017 preseason AP poll and opened the season with a Week 1 opportunity to take out Alabama and prove that they were back in the drivers' seat of NCAA football. They did not do that. In fact, partially due to a season-ending injury to QB Deondre Francois, Florida State went 7-6 in what was truly the beginning of the end. After this incredibly disappointing season, Jimbo Fisher sought a better future, receiving a huge contract to take over the Head Coaching job at Texas A&M. 
    Florida State immediately hired Oregon coach Willie Taggart, a promising coaching prospect who had success in his 1st year at Oregon. QB Deondre Francois was back from injury and it seemed that the 2018-2019 season was going to be the comeback season that FSU had been scrambling for. Once again, it was not. FSU somehow got worse, going 5-7 under Willie Taggart, who struggled to utilize the 5-star talent that Jimbo Fisher had brought into the program.
Jimbo, however, is not without blame. In a similar fashion to Urban Meyer's reign at Florida, Jimbo simply coasted after winning a ring, throwing all team rules out of the window. This change in culture created the environment that led to the downfall of FSU.
    That being said, under Taggart, the nightmare only got worse for Florida State, as Francois was dismissed from the team after a video of a domestic dispute between he and his girlfriend surfaced. Starting off the year on that foot, the 2019-2020 season has been defined by Willie Taggart's incompetence (see play below):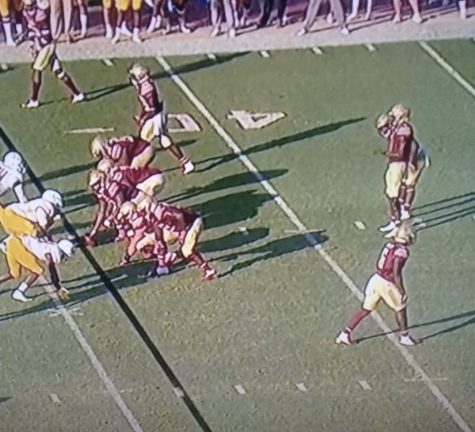 Taggart has said that the Seminoles don't actually have an offensive playbook, and that has been obvious in some questionable performances during his career (see score below) (not to be confused with this season's 27-10 snoozefest against Miami):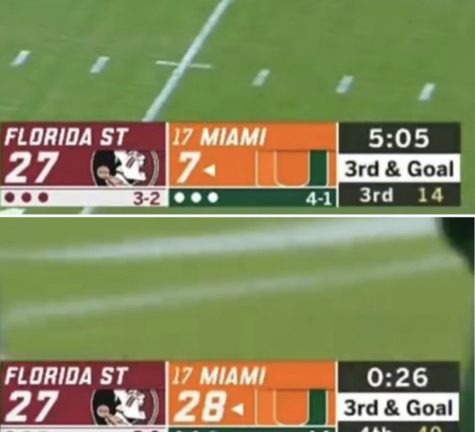 Taggart's termination halfway through the season is essentially a hard reset. A team that, just 6 years ago, was up for contention in the debate of Greatest College Team ever, is now looking to completely start over. 
    Fans are left speechless. When asked about Florida State's depressing fall from grace, CCES trainer and diehard Florida State fan M.J. Suber thought for a long moment before shaking his head and saying, "No comment." 
    As FSU looks to hire a new coach and hopefully install an actual offensive playbook (or at least one where the players line up facing the right endzone), we are left with just one question: Will Florida State ever return?