Varsity Field Hockey
A summary of the team's 2013 season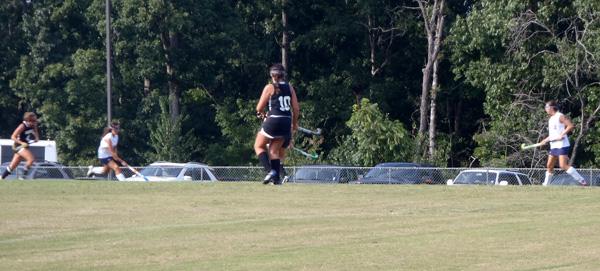 As the best team in the state, the Cavs traveled all over the south to play this season.  This year's team consisted of 19 girls, including 2 goalies, under the great leadership of senior captains Anna Ferrell and Brianna Unger as well as second year coaches Buddy and Christi Deliberto. 

After two weeks of intense conditioning in extreme heat over the summer, the girls began their field hockey season with a tough away game against Charlotte Latin, losing 5-0. Senior Brittain Hughes says, "We played really well as a team.  We do have a lot of younger people on the team so we're trying to get used to how everyone plays, but overall the team works very well together."  
The girls went on to beat Asheville High and lose to Providence Day at home. With four straight away games, the team lost to Asheville School 2-0 and Myers Park 4-0, and then defeated Webb School 5-0 and Asheville High 2-1. The team continued competing and beat Asheville School 1-0, and lost to both Carolina Day 2-1 at home and Charlotte Country Day 5-0 at home. They ended their season losing 0-2 at Carolina Day.

Being the only girls field hockey team in the state, the team travels to North Carolina consistently to play games, which is extremely time consuming and can make balancing school work a challenge.  As sophomore Maria Varat puts it, "It's a lot of traveling and you do have to miss a bit of school for it, but if you like the sport enough it's definitely worth it."

Playing field hockey in the heat can be exhausting.  Hughes says that to deal with all the heat, "We drink a lot of water and hope that somebody's mom brings us popsicles."  Besides popsicles, the girls also love fans that come out to support them.  Some fans even came out and painted up at some of the homecoming games. Captain Anna Ferrell says, "I think this team is one that really cares about the sport and the season, which has really shown." Congrats to a great season, lady Cavaliers!