Girls Varsity Tennis
Cavs aim for another successful season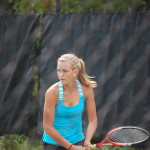 The lady Cavaliers are back in action playing in tournaments and other matches all over South Carolina. Under the guidance of coaches Sherri Adams and Miz A.B. along with senior captain Olivia Lucas, the girls are off to an exceptional start and have won all their matches so far.
The team competed in the Furman tournament during the weekend of August 23-24 and won the tournament for the first time in years. Starting off the regular season, the girls defeated Heathwood Hall 5-2 and Greenville High 6-0, both at home. They lost to Travelers Rest 3-4 at Travelers Rest. The girls then went on to win their next ten games by defeating Riverside 5-1 at home, Clinton High 6-0 at home, Spartanburg Day 6-0 at home, J. L. Mann 7-0 at home, Spartanburg Day 4-3 away, St. Joseph's 7-0 at home, Southside Christian 6-0 away, Spartanburg High 5-1 away, Traveler's Rest 5-1 at home, and Maudlin High 6-0 at home. The girls also competed in the Ace pink Tennis Invitational Tournament and won the whole tournament after defeating A. C. Flora in the finals. The girls went on to lose 2-4 in a close away match against T.L. Hanna High, and then defeated St. Joseph's at St. Josephs 7-0.
The girls tennis team won the region and had a bye in the first round of play offs. In the second round, they defeated the Governor's School 6-0. In Upper State, the girls defeated Southside Christian 6-0. On November 9, the Christ Church Varsity Girls Tennis team defeated East Clarendon-Columbia to win another state title. This is their sixth state title in the past seven years.
The girls greatly miss their teammate Meghan McManus. Sophomore and second year varsity player Blair Wilson says, "Before every match, we say a prayer in remembrance. We know she is watching over us as we play." The girls created T-shirts to wear during warm ups to honor Meghan and the entire McManus family. They won the state title in honor of Meghan.
The girls' success is due to great coaching, a competitive spirit, and a well-bonded team. The coaches purposely schedule tough matches to prepare the girls for important matches. Sophomore Lindsay Hardy says, "We all get along really well and love to joke around and cheer each other on. We really seemed to bond right from the start and that shows on the court and with our teamwork." This year's team is very young, but according to junior Madeleine Ryan, "that will make it easy to build a strong team for future season."

Congrats to the girls on another great season!