Trump Triumphs in 2016 Election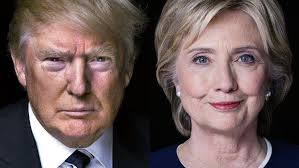 The 2016 Election was full of surprises that continually shocked our great nation. From 12 Republican nominees running for office, to multiple FBI investigations, waking up to a new unsettling update on the 8 o'clock news became apart of the routine for Americans. The election process flew by and Americans found themselves with the decision of having our first female president, Hillary Clinton, or political outsider, Donald Trump. Some Americans were very certain of their pick for President, while most Americans felt forced to pick the lesser of two evils.
Hillary Clinton's campaign was infamously tainted by her email scandal. Clinton used her private email server to send 33,000 emails with classified information. Clinton later deleted all the emails and denied any information about them. The FBI opened up a week long investigation on the emails and eventually let Clinton off the hook. However, just over a week before the election, the FBI found 650,000 additional emails. The FBI opened up yet another investigation to look through the emails. It seems nearly impossible that they went through all of those emails in the short span of a week. The FBI came to the conclusion that the emails didn't contain any evidence of criminal activity, thus Clinton was left without punishment. This scandal, and Clinton's unsettling background, left voters leery of trusting such a dishonest candidate. Clinton ran on the typical liberal platform of open borders, the right for a woman to choose, and the belief that the wealthy should subsidize the poor with running mate, Tim Kaine. Clinton appealed to many Americans who felt that they were struggling for equality and a voice within the nation. Clinton had the endorsement of many celebrities that are very influential in pop culture, and specifically targeted millennials. Katy Perry performed multiple times to support the Clinton campaign. Other celebrity endorsements include, Beyonce, Madonna, Meryl Streep, and Lady Gaga. However, though all of her campaign efforts, Clinton failed to rally the support of the majority of American voters.
Donald Trump came into Washington as an outsider to the corrupt system we like to call, our government. Trump instilled a newfound hope for the future of America with the slogan, "Make America Great Again." After 8 years of the Obama administration, Americans were excited by this new approach. However, Trump also represented a symbol of "hate" for the minority groups in America. Trump contrasted Clinton's open border policy with his belief in a strict immigration policy and stronger border control. He famously coined the slogan, "Build a Wall" to prevent illegals coming from Mexico. This did not sit well with many immigrants, however, many Americans were excited by the idea of getting their jobs and opportunities back from illegal aliens. Many people were offended by Trump's previous statements about women, and felt that he didn't respect them. Unsurprisingly, he did not have a large amount of support from women or celebrities. The entire Trump family played a major role in the campaign process. Trump's children were major contributors to his rallies and public appearances. Trump was definitely the underdog of the 2016 election, because of his inexperience in the political forum and Hillary's tough campaign against him.
Trump won the presidency with 279 electoral votes with his running mate, Mike Pence. Some Americans stayed up most of the night to see the final result. Trump won many key states like Florida, Ohio, Pennsylvania, and North Carolina. Clinton and Trump were head to head in multiple states, but in the end, Trump was able to pull ahead. Whether you are happy with our new President, or disappointed, it is important to remember that we are the UNITED States of America. We may be divided in opinion, but we are all united with the same principles that America is based on.