Op-Ed: The issue with The Village Grind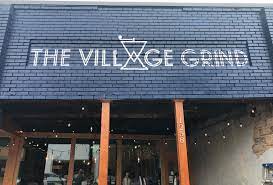 The Village Grind is a local coffee shop located in West Greenville. The Greenville News recently posted an article about how community officials want to start referring to West Greenville (a historically black area) as "The Village." Gentrification started becoming a problem in this area a while back, and has only gotten worse over time. Because of this, I have chosen to not support the businesses that moved into the area. However, the Village Grind celebrated its 7th anniversary this past Sunday the 23rd, so I decided to go see what exactly was going on out there. 
Walking in, the decorations are very relaxed, with plants hanging from the ceiling and colorful bookshelves. Throughout the shop you can see small trinket decorations like a scale made by oyster shells and gold framed mirrors. The menu is chalkboard, and they put all in-house orders into reusable mugs. The actual coffee itself is decent, and has some unique options like rose-cardamom and orange-cinnamon-mocha. The workers were nice, and considering the amount of people in there, I got my coffee in a timely fashion. 
The only problem I found with this coffee shop is that even though it was completely full, and there were at least 50 people either in line or sitting down, I was the only person of color present. I was there for at least an hour, and not one walked in. Which for a historically black area, is concerning. So while I could appreciate the coffee, I couldn't help but be disturbed by the implications of what I saw.
What does it mean when a small business in a black area has no black customers? Furthermore, what does it mean for that area when the business is filled with middle/upper class white people? Gentrification isn't an out of touch problem, it is happening right in front of us, and we're just watching, and maybe even encouraging it in the name of "economic growth." The question we need to ask ourselves is what is more important to us, the lives of the people in our town, or "economic growth" that is directly hurting them?
Overall, this is a good coffee shop, but the workers themselves are contributing to a larger problem. I won't be attending again due to its contribution to the gentrification of West Greenville, with it being one of the first shops to open in the area.