Sabrosos, The Best Restaurant in Greenville?
May 14, 2020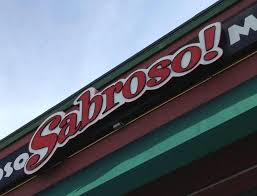 Ever since I moved to Greenville, I have always driven passed Sabrosos and was intrigued by there sign, which reads, "Sabrosos World Famous Mexican Grill". I used to wonder if the food was actually that good and whether my friends across the country knew of Sabrosos. As I grew up and matured, I realized that the World Famous Grill sign was a clever marketing tool with some truth in it. When I think of Sabrosos nowadays, I think about the phenomenal food and service that makes it my favorite restaurant in Greenville. 
Located between a Cookout and a pizza place, Sabrosos isn't the prettiest restaurant in town. It doesn't have the glamourous outside that maybe a Rick Erwins might have, but it has a warm feel once someone walks in it. The patron is immediately greeted by a friendly hostess who will usually show them to one of their many comfortable booth seats.  The consumer then notices the festive music playing- not too loud to the point that people can't have conversations, but loud enough that someone can enjoy dinner while listening to Spanish hip-hop and other Spanish tunes. 
The menu: Sabroso's menu is probably the longest menu I have ever seen. I feel like every Mexican dish in history is on Sabroso's menu. It's more than 5 pages long. The first time my family and I went to Sabrosos, we must have spent 15 minutes just reading the menu to make sure we knew about all the food options. The surplus of meal options isn't even the best part of the menu; the prices of the food are. I can buy a burrito for 10 dollars that fills someone up for hours. A tasty steak fajita from Sobrosos costs about 20 dollars, but it comes with rice, beans, sour cream, onions, and 2-3 soft taco shells. By comparison, a steak from a nice steak restaurant is more than thirty dollars and it only comes with 1 or 2 sides. 
Every time I eat a Sabroso's burrito, I feel like I'm eating in Mexico. After my first burrito from Sabrosos, I became addicted to it. I have eaten so many burritos from there to the point that the manager at Sabrosos knows what I want right when I walk in. The burrito is covered in queso and red sauce with beef, steak, or chicken inside. The beans and rice in a Sabroso's burrito complement each other like Jay Z and Beyonce. Of course, before eating any burrito, I always start with their chips and salsa. If a burrito isn't for you, a taco, an enchilada, a quesadilla, a fajita, and soup all fill someone up for hours. 
It is evident, however, that one aspect of Sabrosos makes it undesirable for some families. Sabrosos allows for smoking in its bar area. This is a business strategy meant to attract a different type of customer. Unfortunately, it also alienates other customers in the process. My mom, like most moms, doesn't want their young kids exposed to smoke during dinner. I can try to convince her that if we don't sit near the bar we can't smell the smoke, but honestly, the smell of smoke carries across the restaurant and is annoying for non-smoking families. 
Sabrosos World Famous Mexican Grill is the best Mexican restaurant in all of Greenville. If anyone eats at Sabrosos and can honestly tell me that the food and service at Sabrosos don't have the attributes of a world-famous restaurant, they are terribly wrong.