Fresh New Dishes To Be Found At Topsoil's Kitchen and Market
March 23, 2020
Ironically situated next to Pink's Ice Cream is a little rustic bistro, charmingly named Topsoil. Inside, the atmosphere is farmhouse-chic, mixing an elegant bartop and white brick walls with various potted plants and warm wooden accents.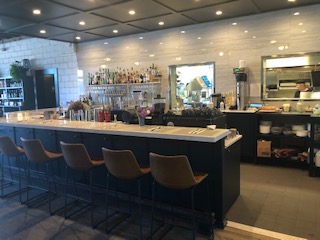 The tantalizing aroma of sizzling something (asparagus, perhaps?) envelops my senses. Though it's only been open for about 6 months now, the place is buzzing with cheerful customers. After being lead to our table by a smiling host, I study the menu and am delighted to find that every item on the menu is healthy and surprisingly innovative (although there are some dishes that I can't pronounce, but they sound delicious). We order the House Spreads (consisting of roasted za'atar spiced carrot hummus, skordalia, and a wonderfully tangy goat cheese, Boursin) and the homemade bread basket (which we re-ordered three times and nearly filled up on). Our server takes our main orders and leaves us to marvel at the decor, the smell of the food, and the fact that some of the vegetables they are serving are being grown in the back of the restaurant. 
My salmon arrives in good time, and my mouth instantly begins to water. The fresh fish boasts an expertly grilled crust of hearty seasonings and spices, surrounded by a medley of beans, crisp greens, and steaming brown rice. The entire plate is practically swimming in a sauce that makes my taste buds tingle. The fish itself bursts with a freshness only found in a true farm-to-table restaurant and warms up my entire body as I chow down. Every flavor, subtle and bold, works together to create a perfect harmony of flavors that tastes like a million bucks but surprisingly costs only $26. It's safe to say that my plate made a splash. 
Everyone at my table is beaming and gushing over their individual dishes. My grandmother's Asian miso cauliflower special was apparently a huge hit; everyone in my family had to have a bite. The cauliflower was perfectly steamed – not too raw, but just crisp enough to leave a satisfying crunch in my mouth. The soupy sauce tasted homemade, teeming with all kinds of vegetables that I probably hadn't ever eaten before. "It was out of my comfort zone," Buddie Lyon says. "It was food food, and I enjoyed it."
But what's the driving force behind these creations? Owner Patrick McInerney attributes his success to his partners, his goal, and everyone's passion for bringing the best quality food possible to their customers. When asked about his main mission, he says, "We want to connect more to the foods that we know are good for us." After starting on a mainly plant-based diet a few years ago, Mr. McInerney wanted to bring a wholesome, ever-changing restaurant to Travelers Rest.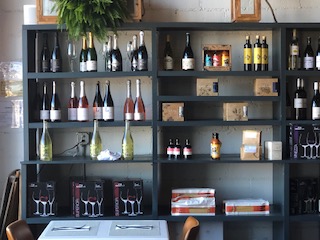 Depending on what's in season or what James Beard award-nominee Adam Cooke decides to make that particular night, the menu can change from day to day. Whereas most places have fairly stagnant menus and only switch things up every couple months, Topsoil promises a diverse rotation of "consistently delicious" dishes, often prepared with locally sourced produce in order to support local farmers. In addition to this, Mr. McInerney and co-owner Wendy Lynam run their own farm that accounts for not only the dishes they serve, but also the products for sale. On both sides of the restaurant, you'll find a fresh stock of jams, jellies, wines, and countless other house-made treats, almost like a "gourmet grocer."
It's no secret that the staff at Topsoil puts their heart and soul into every aspect of the business, from cultivating the food to providing top-notch service to delivering nutritious, high-quality meals to their customers. For the Topsoil staff, it's just all in a day's work; they're "just doing what makes [them] happy."  
Here is a link to the restaurant's website: https://www.topsoilrestaurant.com/