Alex's 1 ⭐ Reviews: Post Malone Fans Make Me Sad
You've likely never listened to Top 40 radio or looked at the Spotify Browse page without seeing the name Post Malone. After surging to popularity in 2016 with his debut album Stoney, Post has been on top of the world, selling out shows around the world and dropping multiple #1 albums. With the release of his latest record, "Hollywood's Bleeding,"the hype behind Post Malone has been unreal and has fans have taken to Twitter to praise the artist and his latest work.
The album boasts a diverse array of features varying from Young Thug to Ozzy Osbourne. "Hollywood's Bleeding" is decent and does deserve some praise. I have nothing against supporting your favorite artist and singing his/her praises on your Twitter page. But Posty fans have taken their support for Post Malone too far, claiming that the rapper actually discovered the aforementioned Ozzy Osbourne. 
Name not ring a bell? Ozzy Osbourne, nicknamed "The Prince of Darkness" and "The Godfather of Heavy Metal," is a 3x Grammy Award Winning metal legend who released 9 albums as the lead singer of Black Sabbath, as well as 11 solo albums. He has b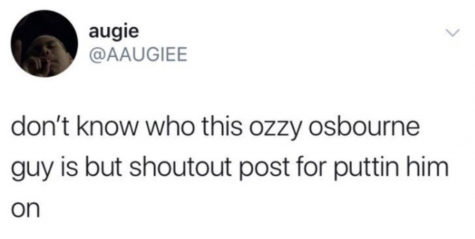 een inducted into the Rock and Roll Hall of Fame. He has sold over 100 million albums. I don't even listen to metal, but the man is the most influential metal musician of all time and deserves all the respect in the world.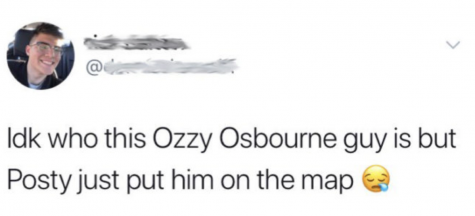 So can someone please tell me how I've seen about 20-too-many Post Malone fans unironically saying that "this new Ozzy Osbourne guy is about to blow up fast?" I've promised myself too many times that I wouldn't let someone on Twitter actually make me angry, but this is just insane. I don't love Post Malone. He was never my favorite musician, but he was always fine. But when his fans started claiming that he discovered the greatest metal musician of all time, I completely distanced myself from all things Post Malone-related. Since reading his fans' tweets, I have not pressed shuffle on "Hollywood's Bleeding" once. Whenever I hear a Post Malone song on the radio, I change the station immediately. So, this edition of 1 Star Reviews goes out to Post Malone fans for completely ruining him for me. Shoutout to y'all.